Want to know what the fancy name means? 'Chicken in white wine sauce with  mushrooms and pomegranate arils' I just thought it would be fun to give this dish a real French twist since it seems so French to me~~the flavors, the herbs, the simplicity, the elegance~~it all reminds me of being at a sidewalk bistro on a cool balmy evening, my boho scarf around my neck, a glass of chardonnay, and my main squeeze next to me, somewhere in France.
Isn't it nice to dream and fantasize? That's one of the magical things that I just adore about food~~it can let me imagine whatever I want to dream~~where I am, what I'm doing, how I'm feeling, the scenery, the weather~~it's like scripting what I want that puts me in my happy place. Maybe this dish will do that for you, and whatever your noggin's video and audio creates that gives you the happy factor then enjoy as you savor every bite. xoox ~peace & making your world brighter with food~ ~peace & chicken luv~ xoxo ally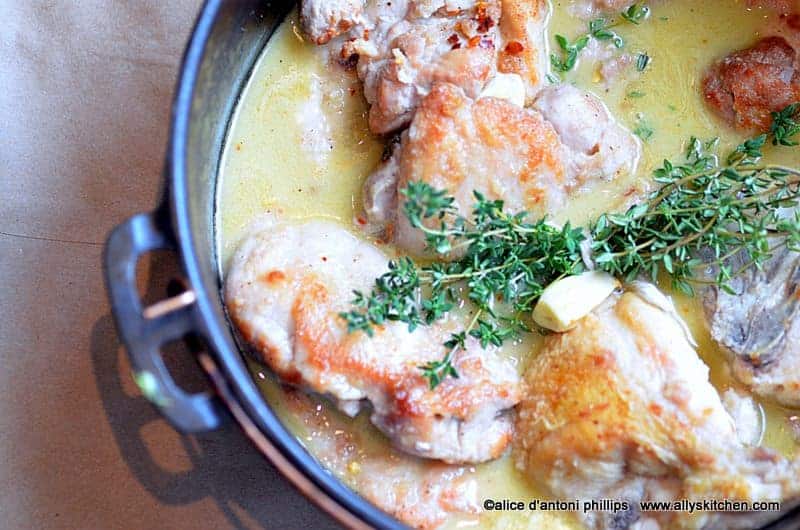 Serves: 4
What you need:
2 to 2 ½ lbs. boneless skinless chicken thighs
1 tsp. sea salt
1 tsp. pepper
¼ cup rice flour
4 Tbl. Butter
3 Tbl. Olive oil
4-5 whole garlic pieces, cleaned
1 cup white wine (I used chardonnay.)
2 cups chicken broth
6-8 sprigs of fresh thyme tied with cooking string
2-3 cups of mushrooms (your choice—I used enoki.)
1 cup pomegranate arils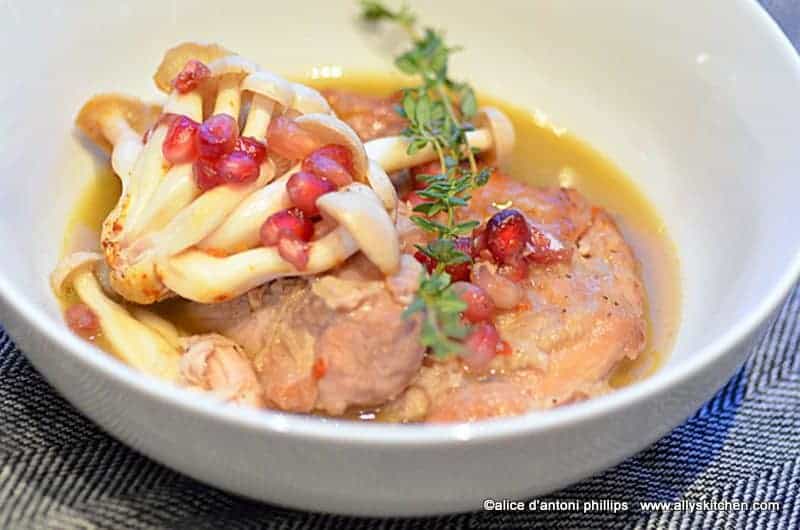 What you do:
On a cookie sheet lined with parchment paper, put the chicken thighs. Sprinkle on the salt and pepper; toss and turn. Sift on the rice flour and toss and turn coating all the pieces.
In a heavy dutch oven pot over medium high heat, melt the butter and add the olive oil. Let the butter/oil get hot (but don't brown the butter). Add the chicken and pan sear to a golden brown on each side—about 2 minutes per side. Reduce the heat to medium, add the wine and let it sizzle/bubble about 3 minutes. Add the chicken broth and fresh thyme bouquet.
Cover the pot with doubled foil and a lid. Cook in a preheated 375 oven about 45 minutes. Remove and add the mushrooms, covering them with some of the broth, recover and continue cooking another 20 minutes.
Remove and add the pomegranate arils, blend slightly, and it's ready to chow down!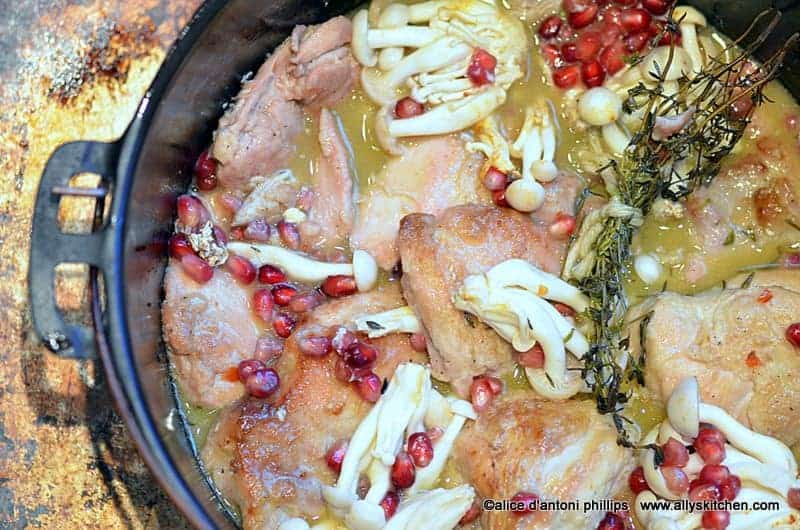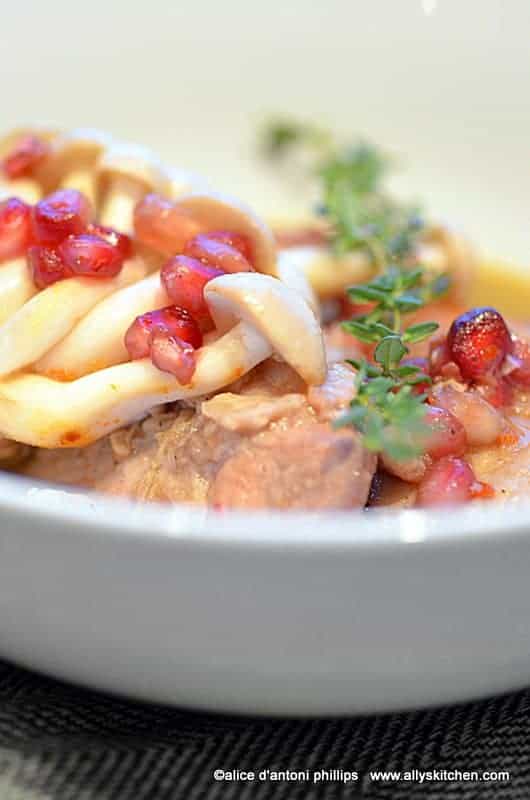 ©alice d'antoni phillips www.allyskitchen.com