Pork chops. Thin pork chops. Yeah, I'm sometimes all about making food that's healthy, fresh, quick and easy. Listen, I know how busy you are. Now before you order up one of those meal delivery services, check out this recipe because with just a few ingredients, you'll be set.
Make sure in your pantry you've got a nice Greek seasoning mixture. The one that I love is Cavender's All Purpose Greek Seasoning. I use it for so many things. Says it's 'an ancient Greek formula'; well, if you want to buy into that, great. If not, well, this is just simply a good mixture to keep in your pantry!
Pork Chops Greek Style
What I love about this recipe, well, besides being easy and quick, is that it's super delicious. And, it gets better on day two, so you might want to double it. Another great thing about this recipe is the addition of cucumbers to the bean/salsa mixture. I mean, did you expect that!!! Probably not! But, what it does is add yet another texture dimension, crunch! And, these cukes will stay crunchy into the next day if you're heating up leftovers.
Another Quick and Healthy Recipe
Alrighty, here's yet another dish that you'll *swwwwooooooon* over for sooooooo many reasons! Super Quick Creole Chicken Dinner.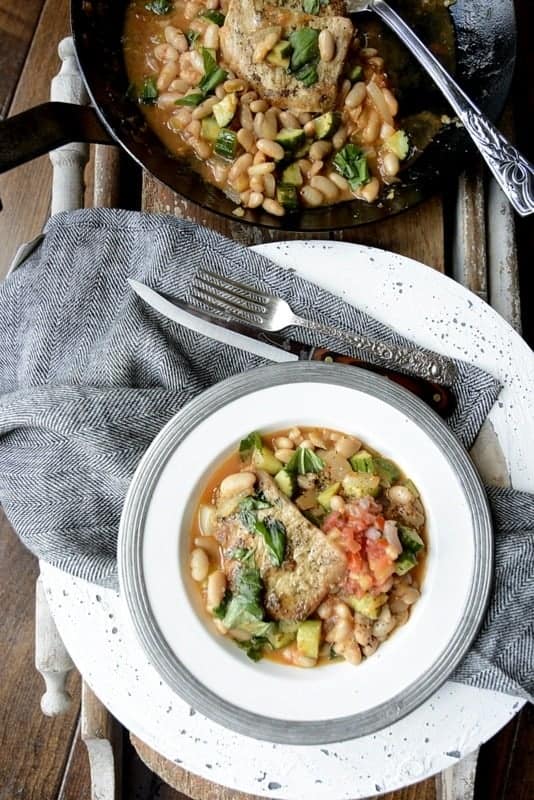 one-skillet greek pork chops
Ingredients
4-6 thin cut pork chops
1 Tbl. Greek seasoning mixture
1/3 cup oil, canola, coconut, avocado or olive oil
2 cups sweet onions, packed, large dice
1 can (15 oz.) cannellini beans, drain about half of the liquid
1 tsp. coarse ground pepper
1 ½ cup fresh salsa, plus more for garnish and serving
1 ½ cup cucumbers, mini type, medium dice
1/3 cup fresh basil leaves, packed
Instructions
Put the pork chops on a parchment paper covered cookie sheet. Coat both sides of all with the Greek seasoning mixture.
In a large skillet (10-12"), put the oil. Turn heat to medium high. When somewhat hot, add the pork chops and pan sear on each side about two to two and a half minutes. Remove the pork chops to a plate. Cover with foil or a lid.
To the hot skillet, add the onions and sauté about three minutes. Add the beans, salsa (with juices) pepper and blend. Reduce heat to medium and cook (uncovered) about 8 to 10 minutes letting the mixture thicken and reduce. Stir and blend as needed. Add the cucumbers and blend.
Reduce heat to low. Return the pork chops (and any juices that have accumulated) to the mixture then tear the basil leaves with your hands and add. Turn heat to simmer. Cover until serving.
Add salt to taste.
https://allyskitchen.com/pork-chops-greek-style-one-skillet/
©ally's kitchen intellectual property