Living part of the time in the mountains of Colorado has so many advantages, especially during the summer.  And, when you have a neighbor who loves to fish.  A neighbor who has a sweet honey hole for finding brown trout.  And, a neighbor who shares his catch with you, then you're like a pig in slop~~HAPPY!  Scott walked over, knocked on the door, and there he was standing there, grinning ear to ear, a plastic bag in hand.  I just had a sneakin'  suspicion, there was something in there for me!
Walking in slowly, Scott, who has Parkinsons and both motor skills and speech are significantly affected, started telling me all about his fishing day~~we exchanged cooking tips for the fish, and then I sent Scott home with a big hunk of a three-layer German Chocolate Cake I'd just made~~he promptly told me that he was not sharing his 'catch' of cake!  What a joy to have neighbors like Scott who brighten your day and show you all the beauty of life even when you could legitmately be simply bitter and miserable~~not Scott…he's an inspiration beyond words!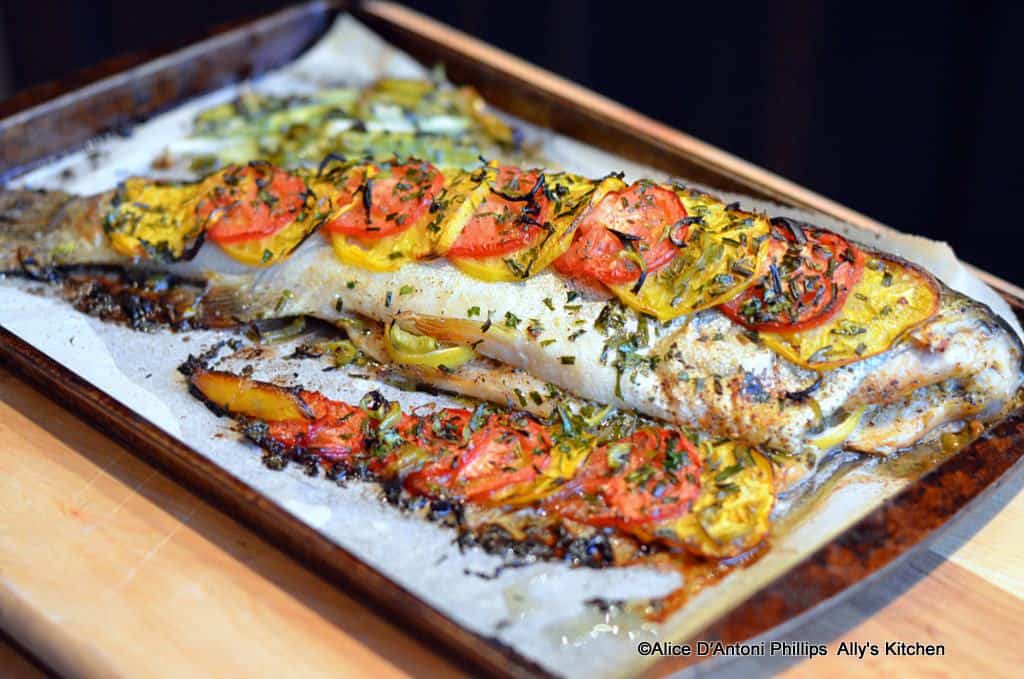 Serves: 4
What you need:
1 about 2lb whole fish (head on or off) sliced partially through the center
4 tbl butter
4 slices lemon
4 tbl avocado oil (can substitute olive oil)
1 ½  tsp sea salt (divided)
1 tsp pepper (divided)
2 tbl Simply Asia's 'Sweet & Spicy Saigon' (you can substitute an Italian, Greek or Cajun seasoning mixture)
1 large Roma tomato sliced thin
1 large yellow tomato sliced thin
¼ cup fresh chopped herb combo—chives, thyme, and Italian Parsley
¼ cup olive oil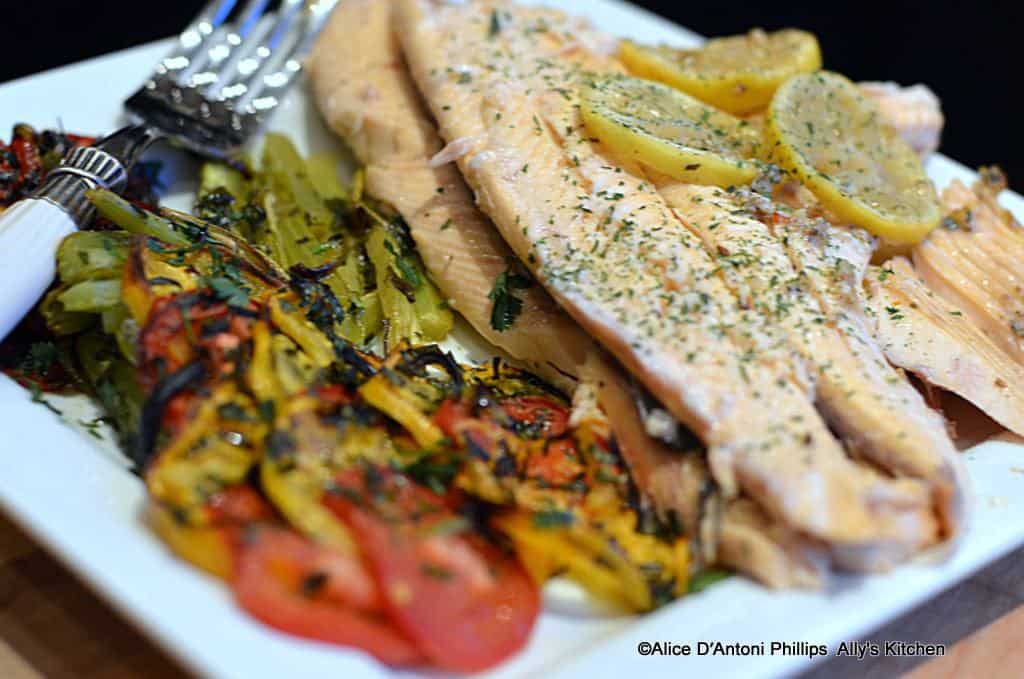 What you do:
Open the fish and put in the butter, lemons, half the salt/pepper, and one tbl of the seasoning mixture.
Gently score the skin top of the fish (about ¼" deep).  Sprinkle on the remaining salt, pepper and seasoning mixture.  Drizzle half of the olive oil.  Lay the tomatoes atop the fish, sprinkle on the fresh chopped herbs.  Drizzle with the remaining olive oil.
Roast in a 425 preheated oven about 25-30 minutes.  Remove and loosely cover with a foil tent and let the fish rest about 10-15 minutes.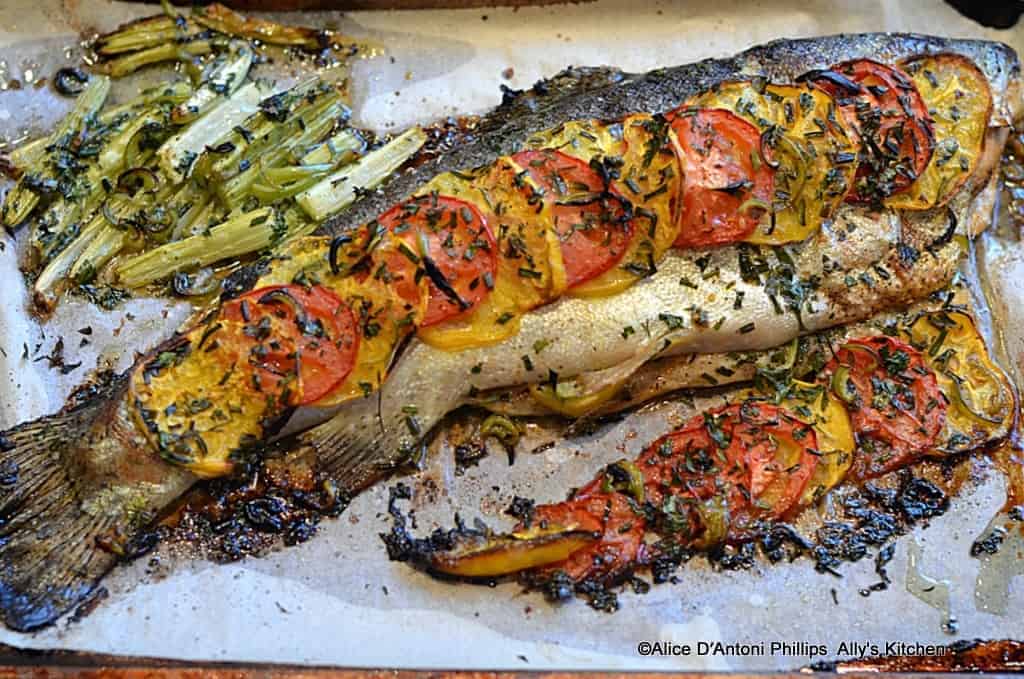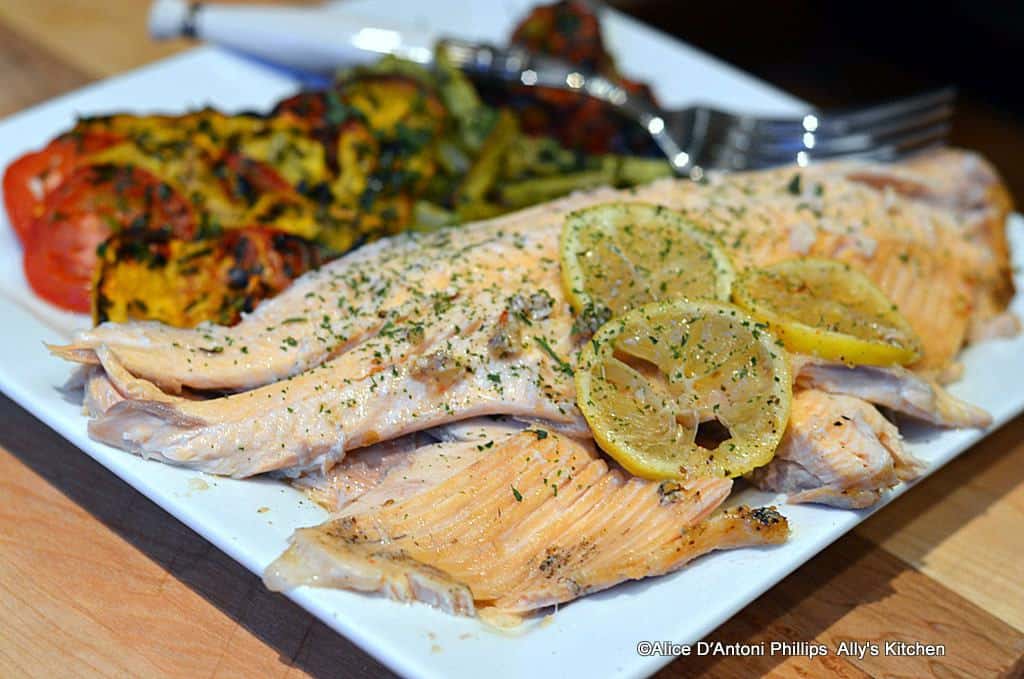 ©Alice D'Antoni Phillips  Ally's Kitchen