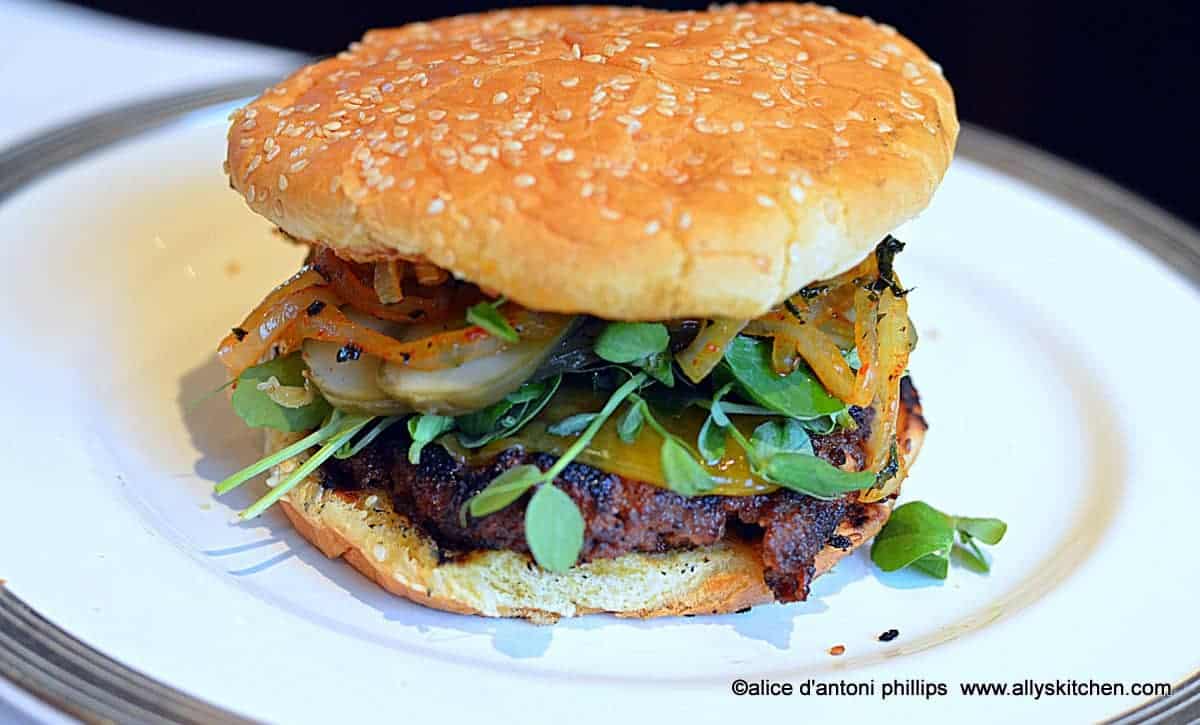 The 'ottoman empire burger'. Hummmm, sounds pretty amazing and fancy schmanzee, huh? Now just how did I get that name. Well, if you explore the ingredients, you'll understand more! Some of these ingredients, including the spices, date back to long ago, and, yes, maybe even to the Ottoman Empire!
When you talk about the world market of trade, you realize that spices were instrumental in igniting routes and demand. As the Economist explains, the global aspect of the dealer's trade is nothing new. As far back as 2600BC, there are records of the Egyptians feeding spices obtained from Asia to labourers building the great pyramid of Cheops, to give them strength. Archeological evidence suggests that cloves were quite popular in Syria not long after, despite the fact that, like nutmeg and mace, they came only from the spice islands of what is now Indonesia. Long before the 6th century BC, when Confucius advocated the use of ginger, the Chinese were obtaining spices from the tropics. Europe imported them before Rome was founded.
Yes, spices very well have changed the world forever! A theory, indeed! One thing's for sure, my Bohemian Bold culinary trademark style would not be what it is without spices! Now if you don't have Harissa, not to worry, let me show you how to make your very own. It's just a CLICK away!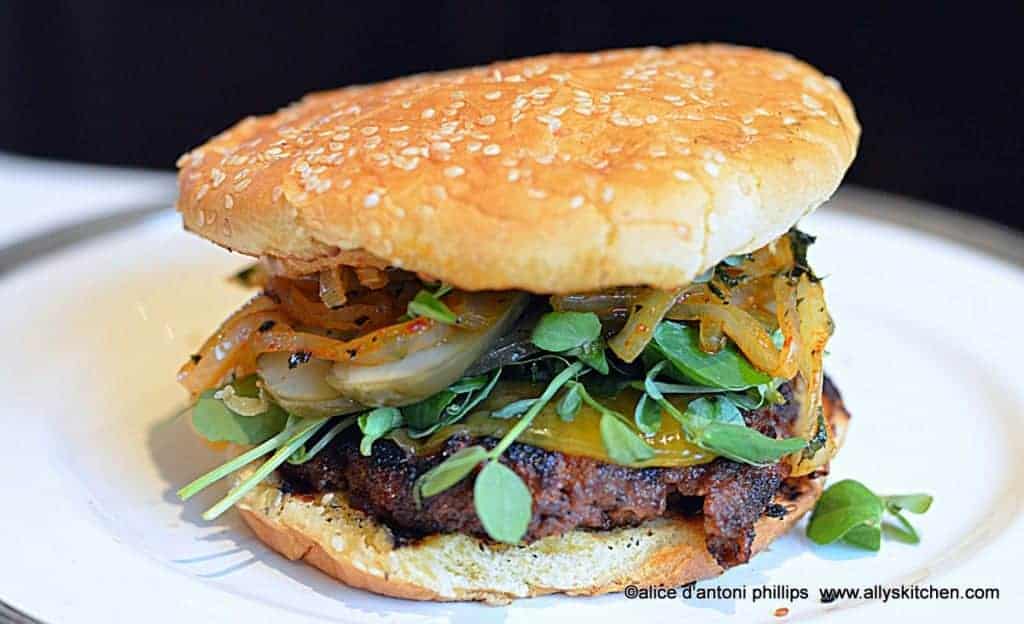 Ingredients
BURGER PATTIES
2 lbs ground beef (80/20)
2 tsp sea salt
1 tsp coarse ground pepper
2 tbl Harissa paste
½ cup Greek plain yogurt
¼ cup finely chopped fresh mint
4 thick slices of smoked medium sharp cheddar cheese
Cooking Spray
ROASTED RED PEPPER SAUCE
1 ½ cups drained and pureed roasted red peppers
1 tbl grated lemon zest
¼ cup finely chopped fresh mint
2 tbl extra virgin olive oil
1 tsp sea salt
1 tbl Harissa paste
1/3 cup mayonnaise
GRILLED ONIONS
2 large sweet onions sliced in thin rings
4 tbl extra virgin olive oil
½ tsp sea salt
½ tsp coarse ground pepper
½ cup Roasted Red Pepper Sauce
¼ cup finely chopped fresh mint
BUNS & BURGER BUILDING
4 large soft sesame seed buns
6 tbl softened salted butter
½ tsp coarse ground pepper
1 cup fresh pea shoots
12 thin slices of kosher dills
Instructions
BURGER PATTIES: Combine the beef, salt, pepper, Harissa paste, yogurt and fresh mint in a large mixing bowl.  Combine together well with hands.  Portion into 4 equal parts and make large patties.
Coat a grill with cooking spray.  Heat to 400-450 degrees.  Coat both sides of the burgers with cooking spray.  Put on the grill.  Close the lid.  Cook for about 4 minutes per side.  Turn off heat.  Place cheese on burgers.  Close lid and let the cheese melt.
ROASTED RED PEPPER SAUCE: Combine the pureed roasted red peppers, lemon zest, mint, olive oil, salt, Harissa paste and mayonnaise in a bowl and blend.  Remove ½ cup for the sautéed onions.  Set aside until ready to build the burgers.
GRILLED ONIONS: Onions:Heat a large heavy skillet on medium high.  Add the olive oil, onions, salt,  and pepper and sauté about 10 minutes until the onions are tender and caramelizing.  Reduce heat to low/simmer and add the Roasted Red Pepper Sauce and mint and blend in.  Cover with a lid until ready to build the burger.
BUNS & BURGER BUILDING: Butter the inside of the buns.  Sprinkle on some of the pepper to the both sides of the buns.  In a non-stick skillet over medium high heat, place the buttered side down and grill about 2-3 minutes or until golden brown.  Remove to a parchment paper lined cookie sheet for building the burger.
Spread two tablespoons of the Roasted Red Pepper Sauce on the bottom side of the grilled bun.  Add the burger with melted cheese. Add a some of the pea shoots.  Place 3 thin slices of the Kosher dill on top of the pea shoots. Pat down with your hand to secure. Add equal amounts of the Grilled Onions.  Spread 3 tbl of the Roasted Red pepper Sauce on the inside of the inside of the top bun.
In a mixing bowl, combine all of the ingredients and blend together.  Set aside for plating.  Portion out one-half cup for mixing into the grilled onions.
https://allyskitchen.com/ottoman-empire-burger/
©ally's kitchen intellectual property