Beef! It's What's for Dinner! I had the privilege and honor of being asked by my dear friend Amee of Amee's Savory Dish to be one of four food bloggers to compete in a recipe contest for the National Beef Council.
Our challenge? Create a quick, easy entertaining recipe that packed flavor, healthy ingredients & happiness~yes, one that obliterated that 'guilt' factor of maybe having seconds and indulging at gatherings, large or small! So, I came up with North African Spiced Beef Ribeye Wraps with Crunchy Confetti Slaw & Carrot Marmalade Soy Sauce! I know, that's a mouthful!
But before we dive into the recipe~~let me tell you just some of the things I've learned about beef as a result of a cool webinar video prepared especially for the 4 bloggers who participated in this challenge.
1. The top most popular cuts of beef~chuck roast, beef stew, strip or top loin, ribeye and top sirloin.
2. More marbling~those small flicks of fat in the meat~translate into more flavor, richness and tenderness. Now don't confuse that with the 'trim' fat, which butchers tend to trim away before packaging.
3. Be on the lookout for the 'grades' of beef:
USDA Prime (only a small percentage of what you see in the grocery store, most often seen in special meat stores and restaurants~expensive)
USDA Choice (most available~what you'll see at your grocery store, very tasty and delicious)
USDA Select (littl under the choice level, less marbling, but great for cooking)
4. Packaging
Saran with styrofoam tray~usually the meat is bright red because of the oxygen that's there~if you're freezing meat, remove it from this packaging and put in freeze safe storage bags
Vacuum packed~the meat is a darker color but once opened and oxygen hits it, it pinks up
Now there is a totally awesome 'Confident Cook' book that you can access on Beef! It's What's for Dinner website…everytime you turn the page, you hear a cool little 'swish' sound…it gives you SO SO MUCH information (like 52 pages) like the nutritional value of a serving (3 oz.) of beef. Did you know that you're getting half of your daily requirement for protein and 44% of your B12 needs (that's huge!) and more with just 3 ounces of beef! Dying to know the difference between grain-finished, grass-finished, naturally raised, certified organic? Page 10! To marinate or rub? Page 20! You get the idea~this is the go to place for Beef 101!
Disclosure~
1. I was asked to be part of this beef challenge and was compensated for costs involved in creating my recipe.
2. All of the information in the recipe and the opinions here are my own.
3. I absolutely LOVE beef! Cooking with it. Eating it.
Now on to what I created for the competition! xoxo ~peace & good beef~ ally
PS~~Holeeeee Schmollllleee! My recipe WON!  Ally's recipe was placed in the hopper for full recipe development. This included triple testing in their test kitchen. They ran a full nutritional analysis on the recipe, revised it to make it healthier and it's now on their website at:  BeefItsWhatsForDinner.com.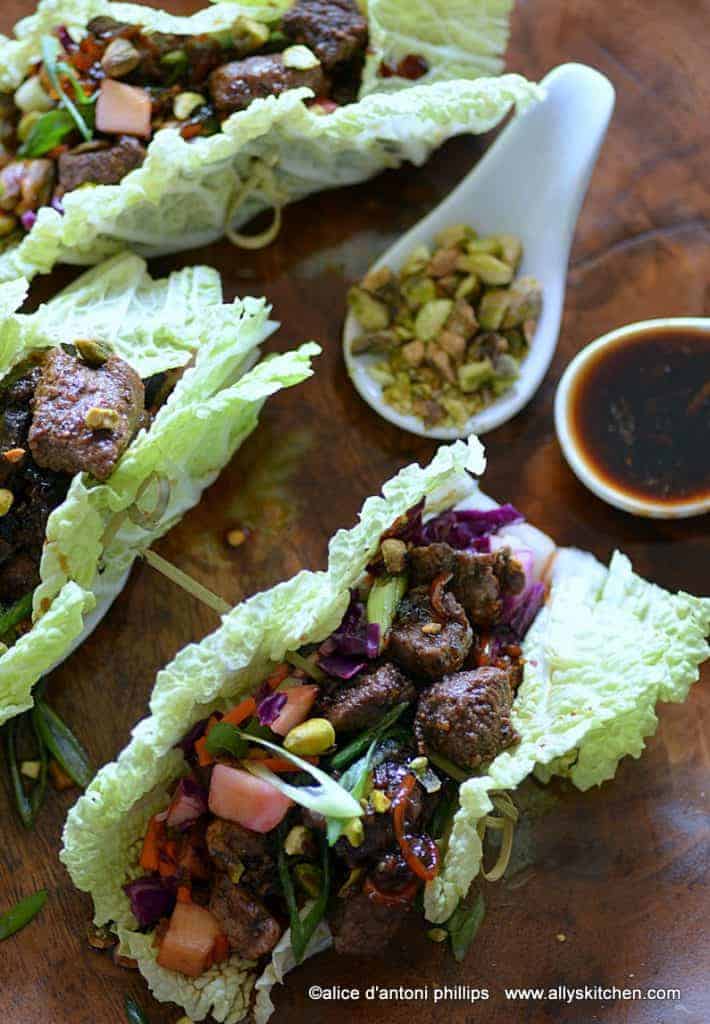 Serves: 6
What you need:
Sauce:
1 Tbl. olive oil
1 Tbl. garlic, minced
½ cup low sodium soy sauce
1 cup carrot marmalade (can substitute orange marmalade)
Slaw:
1 ½ cups purple cabbage, finely chopped
1 large crisp apple, skin on, diced
½ cup shredded carrots, roughly chopped
5 green onions (divided)—chiffonade sliced including tops
1 Tbl. freshly grated ginger
½ tsp. sea salt
½ large lemon, juice & zest
Beef Filling & Wrap:
Cooking Spray
1 ½ to 2 lbs. beef ribeye, cut into small bite size pieces & trimming off any excess fat from the pieces (can substitute New York Strip cut)
1 tsp. freshly ground pepper
1 tsp. sea salt
3 Tbl. ras el hanout spice mixture
10-12 large green leaves—Romaine (small variety type) or iceberg (can substitute tender Napa cabbage outer leaves)
¾ cup shelled salted pistachios, roughly chopped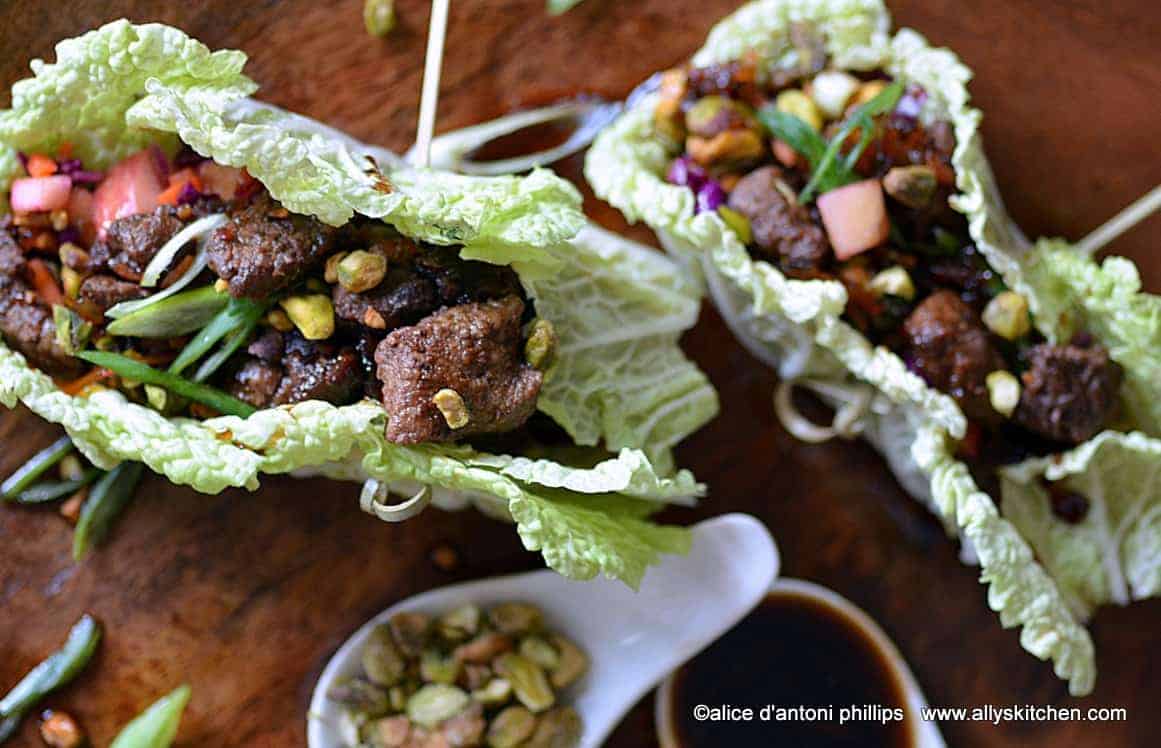 What you do:
Slaw
Combine all ingredients in a large mixing bowl. Toss together well and refrigerate until ready to use.
Sauce
In a heavy saucepan over medium heat, add the oil and garlic and sauté about a minute. Add the soy sauce and marmalade, increase heat to medium high to a simmering boil. Watch the sauce and regulate the heat between medium high and medium low so it doesn't boil over. Stir occasionally cooking about 8-10 minutes which will thicken it. Turn off heat, leave on blaze until ready to use.
Slaw
In a large mixing bowl, combine the cabbage, apples, carrots, 3 green onions, ginger, salt and lemon juice and zest and blend and toss well. Set aside.
Beef
Coat a well-seasoned large cast iron skillet (12") with cooking spray. Turn heat to high and let it get hot. Meanwhile put the beef pieces in a large mixing bowl. Sprinkle on the salt, pepper and ras el hanout and toss and blend well working the spice into the meat. Reduce the heat to medium high and add the meat searing (about 7-9 minutes) on all sides getting a caramelized browning on the meat. Keep turning and regulating your heat between MH and medium as the meat browns on all sides.
Serving
Each person can build his/her own wrap which would be a lettuce leaf, scoop of the slaw, scoop of meat, about a tablespoon of pistachios, a couple of tablespoons of the sauce, and green onions. Bend the filled leaf and eat as a wrap. Serve on a small plate with a fork to get anything that could fall out!
Of course, fingers work fine, too!