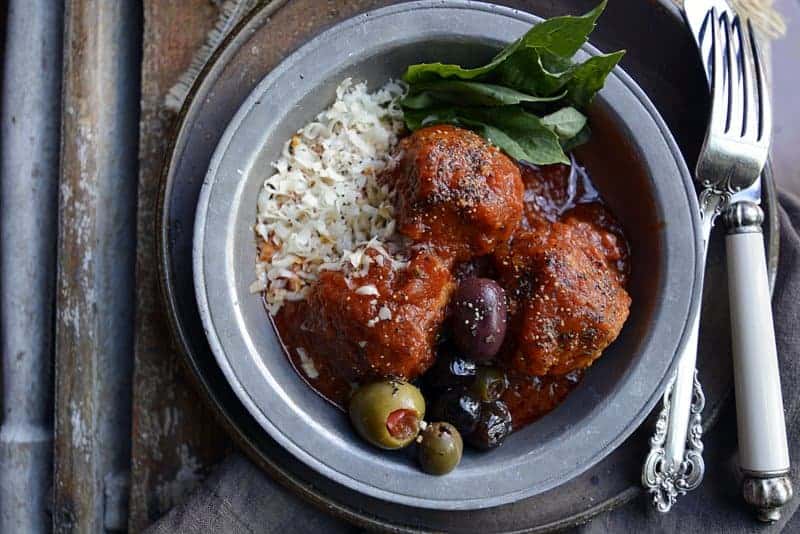 These mozzarella italian meatballs get better and better on days 2 and 3. That is, IF there are any left to 'age' that long!  I usually make these meatballs when I'm making my 'Bohemian Bolognese', a 'Signature Recipe', because most all the stuff is there and ready to go.
It's just a matter of rolling the meatballs and stuffing them, and, that's an option that you can choose or not.  These are great for snacks and making sandwiches, too!

mozzarella italian meatballs
Ingredients
Preheat Oven to 375
1/2 lb. ground pork
1/2 lb. ground veal
3/4  lb. ground beef
1/2 cup finely chopped pepperoni
1 cup chopped fresh herbs, basil, Italian parsley, oregano, chives
2 beaten eggs
1 cup bread crumbs (I make my own. Any Italian seasoned bread crumb will do.)
1/3 cup heavy cream
1/3 cup grated pecorino cheese
1 1/2  tsp. sea salt
2 tsp. coarse ground pepper
1 tsp. red chili pepper flakes
12-15 (about 1") cube pieces of fresh mozzarella, for stuffing into the meatball
Instructions
In a large mixing bowl, combine the meat, pepperoni, herbs, eggs, bread crumbs and cream and blend with your hands/fingers.  Add the grated cheese, salt, pepper, chili flakes and blend.
Begin rolling into the meat into balls (mine are usually about golf ball plus size).  With each ball, poke your finger in the middle about making a good opening.  Stuff in the piece of mozzarella and close opening and roll meatball so the cheese does not show.
Place the meatballs on a parchment paper covered cookie sheet.  Bake in a preheated 375 oven for about 25 minutes or until done.  Remove and let cool somewhat.  Some of the cheese could escape, but just scrape it up and serve with the meatballs!
https://allyskitchen.com/mozzarella-meatballs/
©ally's kitchen intellectual property