I love holidays when family all gathers, and our family, 5 children, 5 and soon-to-be six grandchildren is one big clan when about half of us get together.  These days it's really rare and difficult for everyone to be in the same place…you know the geographic and 'life' constraints of everyone from jobs and college and activities to their own friends and plans around the holidays.  Seems that July 4th is a good holiday for some of us to get together…especially, when Ben and I are here in SC at our home near the beach and on the inlet.
This particular July 4th, Sydney, our oldest granddaughter, and her roommate from college, Brooklyn, came to join in on the fun with some of the other 'Squatleys' including baby Nicholas, the youngest at 2, grand.  Yes, he was capturing everyone's hearts with his antics, (and, yes, wearing us all out), but he wasn't quite big enough to go clamming with Ben, Syd and Brooklyn!  These three creek ratz brought home a bounty of clams, over 200, so after cleaning (over and over), steaming, shucking, mincing and storing, Ben decided to fix dinner for me after everyone left.  I must say I was thrilled because I was flat out drained and worn out~~like the aftermath of a tsunami, I had not one ounce of energy to even crack an egg! This recipe, not an original, but one that Ben found at ifood.tv gets rave reviews from me~~I had him make it twice because I wanted more!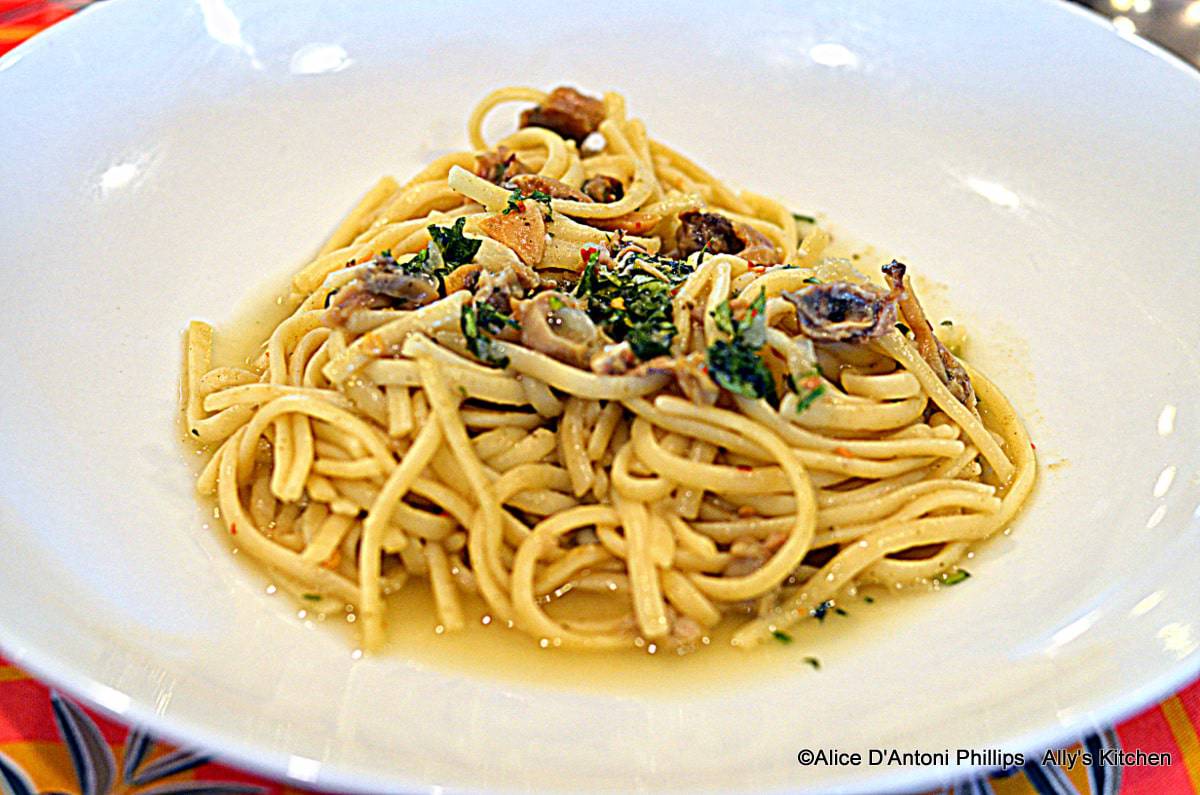 What you need:
2 Tbl. Olive oil
1 chopped medium sized onion
2 tsp. garlic finely chopped
2 Tbl. all purpose flour
4 Tbl. Chopped parsley (divided)
1 tsp. Lemon zest
1 tsp. Italian seasoning
1/2 tsp. sea salt
2 cans (10 oz each) minced, undrained clams —we used fresh clams and the clam juice from steaming them.
1 cup Water (or 1 cup clam juice)
1 Tbl. Lemon juice
10-12 ounces of cooked linguine


What to do:
GETTING READY
1) Follow package directions to cook linguine until al dente and drain well, when done.
MAKING
3) In a large skillet, heat oil over medium heat and sauté onion and garlic until onion is soft, but not brown.
4) Blend in flour, 2 tablespoons parsley, lemon peel, Italian seasoning and salt.
5) Add in clams and their juice, water and lemon juice and allow the mixture to come to a boil.
6) Uncover and simmer for about 5 minutes, after reducing heat to low, stirring occasionally until the sauce is slightly thickened.
FINALIZING
7) Take a large bowl; put linguine in it and pour over clam sauce, tossing linguine to coat.
8) Divide the linguine mixture into serving bowls and add remaining 2 tablespoons parsley.
SERVING
9) If desired, top with grated Parmesan cheese and serve.