This dinner can be done actually in about 30 minutes or less~~just have all of your ingredients handy, and you're in business. It's not only healthy and delicious, but it's really a pretty dish with the building of the 'mound' of goodness. Of course, you don't have to use broccoli rabe and/or mashed potatoes as your sides, but I found this combination of the earthy broccoli rabe with the creamy mash potatoes perfect with the pan seared salmon. Other sides that would 'build a mound' well would be rice and garden peas, risotto, couscous~~well, you get the idea!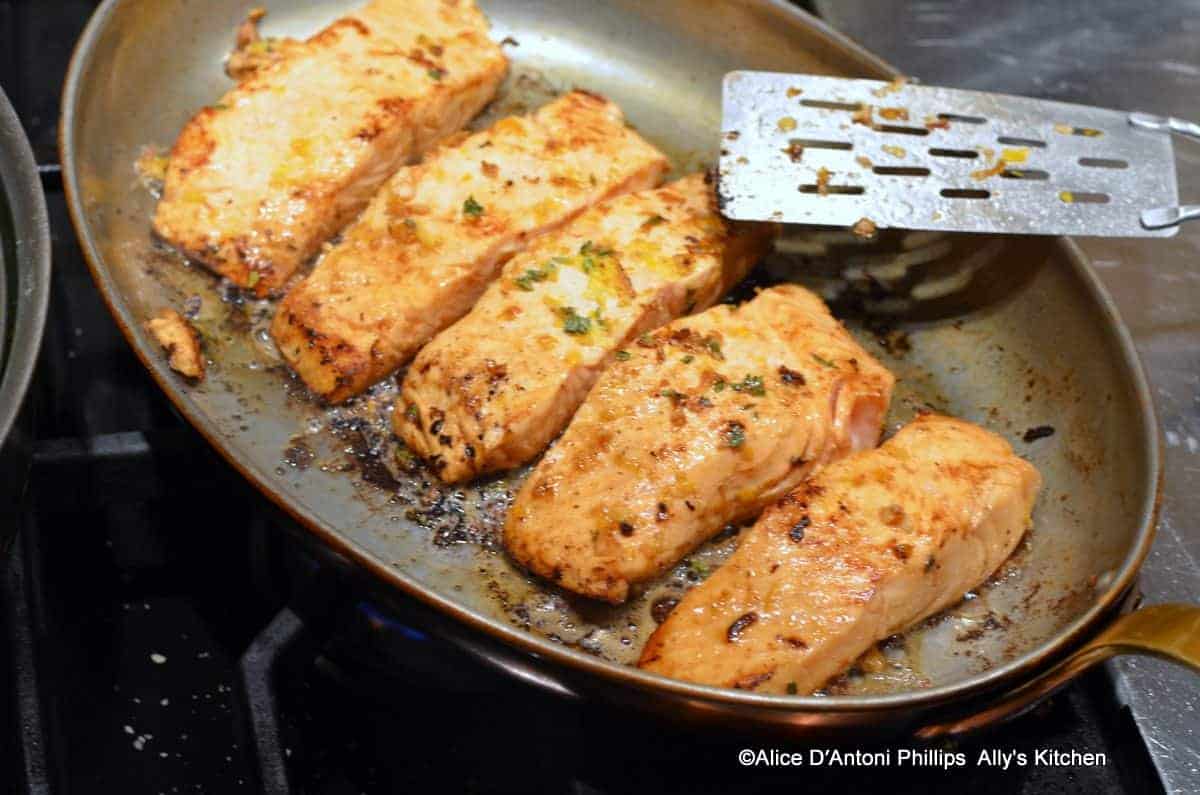 Serves: 4
What you need:
Salmon~
4 (about 8 ounces/each) salmon filets (skin on bottom)
1/4 cup olive oil
1 large lemon, juice and zest (divided)
1 tsp. sea salt
1 Tbl. fresh lemon thyme (divided)
Broccoli Rabe~
2 bunches of broccoli rabe, sliced and chopped
3 Tbl. olive oil
1 tsp. lemon pepper
1 tsp. sea salt
1 tsp. garlic granuales
Mashed Potatoes~
3 cups potatoes, peeled and chopped
1 1/2 cups chicken broth
1 tsp. sea salt
4 Tbl. butter
3/4-1 cup half and half (or whole milk)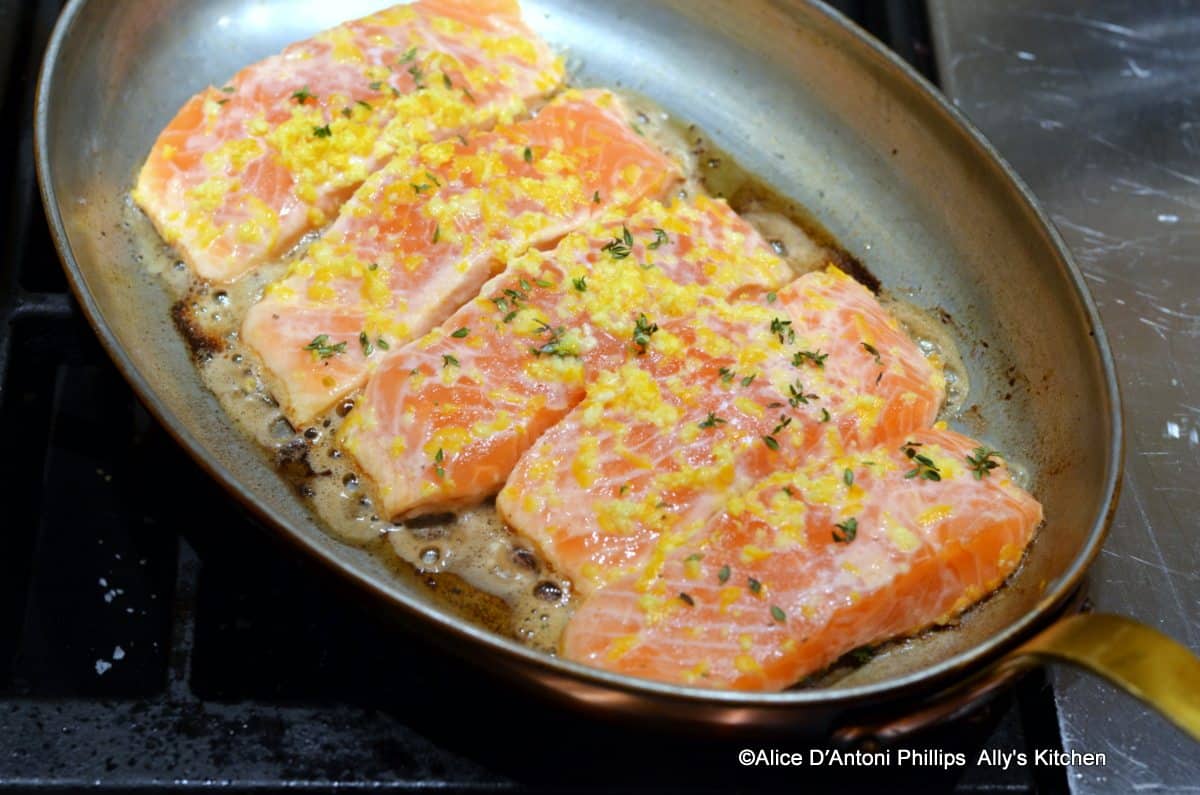 What you do:
Salmon~
Combine the oil, half the lemon juice/zest, salt and half the thyme in a small bowl and whisk together. Put the salmon filets in a pie plate and pour this mixture over it. Cover with plastic wrap and put in the refrigerator~~move on to the sides and prepare. In a large cast iron skillet, drain the marinade mixture into the skillet. Turn heat to medium high. Let it get hot. Place the filets in (skin side down), cover with a lid, and pan sear about 2 minutes.
Reduce heat to medium, flip the salmon filets, cover with the lid and sear (skin side down) another 2-3 minutes. Turn off heat and if you prefer peeling off the skin, use tongs and gently do so. Cover the salmon and begin plating. When serving drizzle on the remaining lemon juice/zest and sprinkle on the remaining fresh thyme.
Broccoli Rabe~
In a heavy medium sized skillet over medium heat, add the oil and let it get hot. Add the broccoli rabe and toss with tongs. Add the pepper, salt and garlic and toss and blend. Reduce heat to low and let it simmer about 20-25 minutes. Turn off heat and let it rest until you pull together the meal.

Mashed Potatoes~
Put the potatoes in a heavy sauce pan over medium high heat. Cover with chicken broth and add the salt. Bring to a boil for about 15 minutes. Cover and reduce heat to medium low and let the potatoes simmer about 20-25 minutes or until fork tender. Take a fork (or potato masher) and start mashing up the potatoes, add the butter and about half the milk and blend. Reduce heat to simmer, cover and add the remaining milk if the potatoes get too thick or if you want more creamy (versus lumpy) potatoes!