You never know the reaction you'll get from total strangers when they taste your food.  Ally's Kitchen & my Boho princesses teamed up with our local Anthropologie store one Fall Saturday for an Ally's Kitchen & Anthropologie Nibbles.  Essentially, I put my spin on recipes I'd chosen from some of their cookbooks.  So this recipe is from the cookbook 'Season' and it's a 'Lemon Peach Cake'.  I'm really liking the cake, but to me the topping should be something with more panache than just peaches.  So what I've done is create a sauce using blueberries because that's what I had on hand rather than peaches.    I wasn't quite sure about one particular lady's reaction.  Very prim and proper looking, this stately Southern lady  savored a bit of the cake with the sauce.  She looked as though she was enjoying it.  I'm starting to relax.  Chewing slowly, I'm obviously thinking that  her palate is exploring all the flavors.  Like waiting for Chef Ramsay to give his response to what I'd prepared, this lady looked at me, smiled, and said, 'Oh, my, this is delicious…it has a surprise ending…'   I loved it!  'Surprise Ending'~~ perfect because that's precisely what happens when you have the 'Guavaberry Blueberry Lemon Spicy Sauce'~~waiting at the end of the experience is a surprise ending!
Now you can use peaches and any other liqueur you want and you can make it spicy or not…you go ahead and do your own 'boho' thingy with the Guavaberry Blueberry Lemon Spicy Sauce! If you don't like my peaches then don't shake my tree!  I love that saying!  It fits with my culinary Bohemian nature.  When I say I 'boho' something that means I put my own spin, design, special touches on something when I'm cooking and trying to follow, the operative word here is 'trying,' a recipe.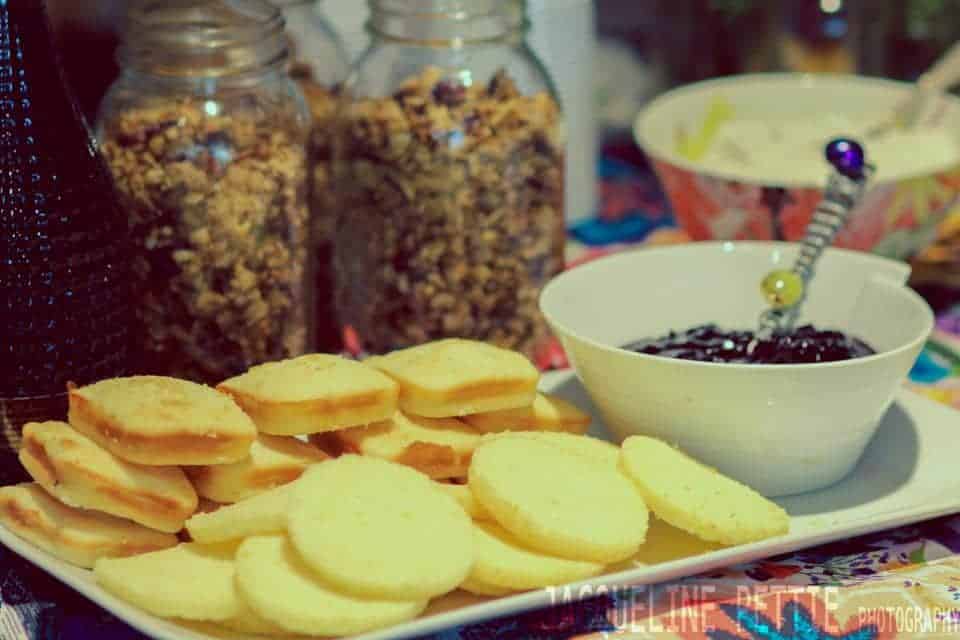 Guavaberry Blueberry Lemon Spicy Sauce: Anthropologie Nibbles
Ingredients
2 ½ cups blueberries, divided
½ cup guavaberry liqueur (or similar berry-like liqueur)
½ tsp. dried chili pepper flakes
2 Tbl. lemon juice
2 Tbl. lemon zest
Instructions
Combine all ingredients (2 cups of the blueberries) in a bowl and let soak/marinade for about an hour. 
Transfer to saucepan and over  high heat bring to boil for about 5 minutes.  Reduce heat to medium and continue to boil for another 10 minutes. 
Turn off heat, add the remaining ½ cup of blueberries and let the sauce sit on the warm blaze.  It's ready to serve!
https://allyskitchen.com/guavaberry-blueberry-lemon-spicy-sauce/
©ally's kitchen intellectual property