I know it's a strange name for this bread. But, there's a story behind it. See I have these wonderful friends on Facebook who follow my cooking adventures—Bob and Laura—well, early on, Bob, who has a wicked sense of humor, deemed me his 'foodie mistress'!  Now, Bob and Laura share similar outdoor loves like my hubby and I do—one of these is camping. So, they messaged me and asked if I could create for them a recipe for a cinnamon cranberry bread 'baked' in a skillet over a campfire or on a camp stove. They're been using a pre-packaged version designed for camping, but thought maybe I could create something as good where you can control/adjust the ingredient amounts. Loving a challenge, I went to work!
This bread can be 'boho'd' or tweaked to your heart's content—if you want it a tad bit sweeter add a couple of more tablespoons of sugar, if you want nuts, add them, if you want to substitute say currants or raisins for cranberries, then go for it—if you want just cinnamon and no cardamom, leave it out, or vice versa. If you want your bread 'straight up'—no nuts, dried fruit, or the spices—then just omit those things! (I can't imagine why though!) That's the whole premise of my culinary style—you adjust to your likings. I meant they are your tastebud, and great dining and eating are all about making youself happy and using your own rules. Always remember, my luvs, I'm just a springboard for your inspiration!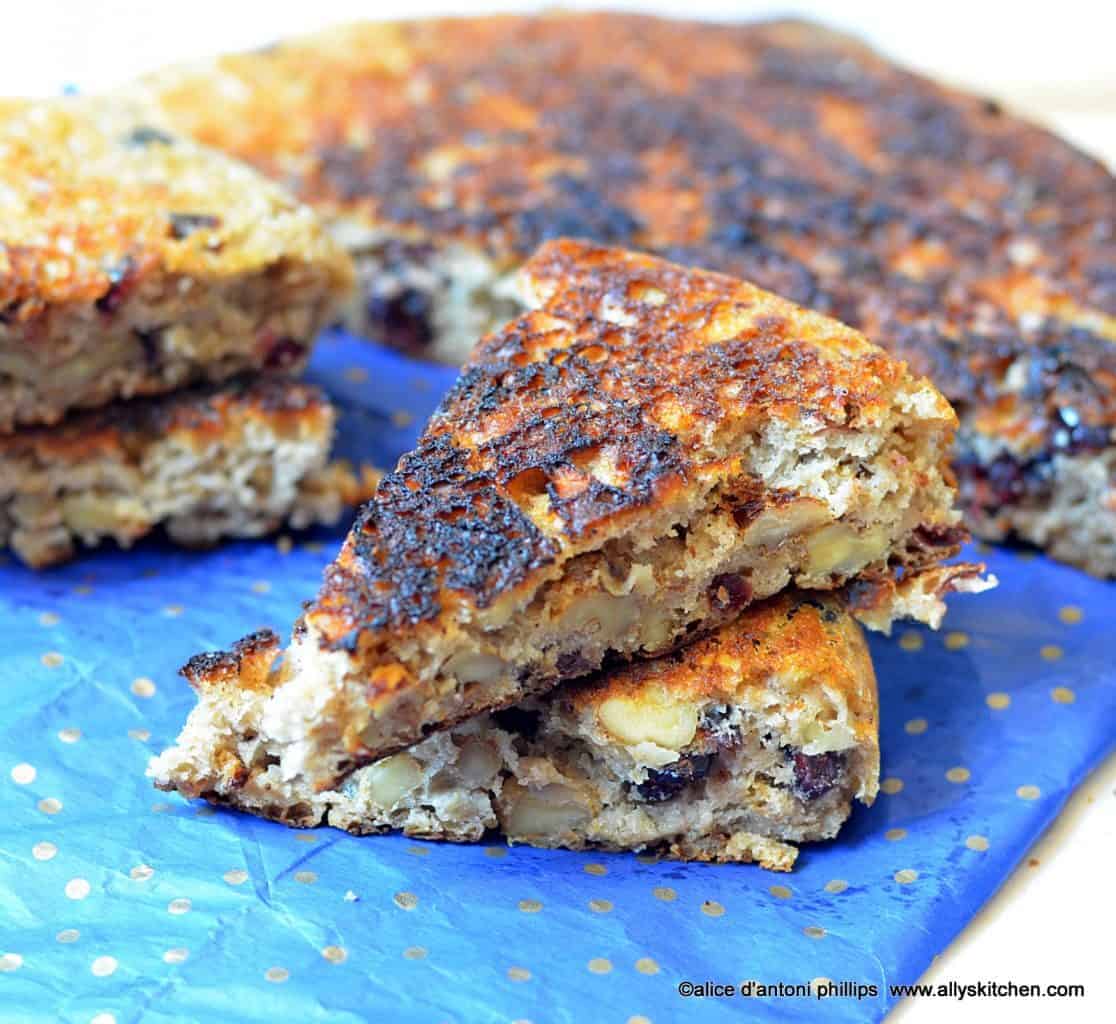 Makes: 1 cast iron skillet (8" diameter)
What you need:
4 Tbl. Dried buttermilk
¼ tsp. sea salt
1 Tbl. Baking powder
¼ oz fast acting dry yeast
½ tsp. ground cardamom
¾ tsp. ground cinnamon
3 Tbl. Sugar
1 ½ cups all-purpose flour
½ cup dried cranberries
½ cup chopped walnuts (optional)
1 cup warm (100-110 degrees) water
1 Tbl. Vegetable shortening
Cooking spray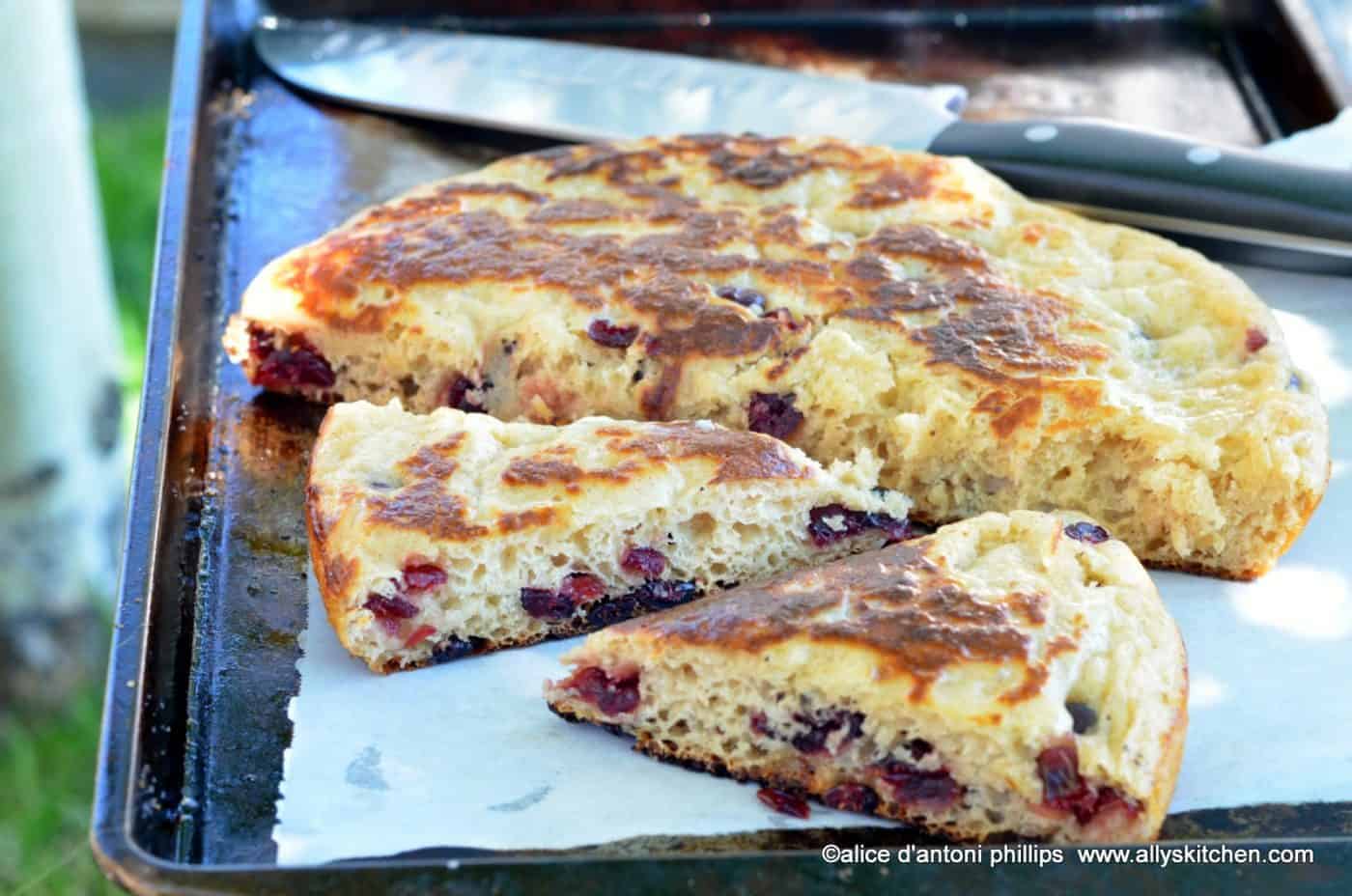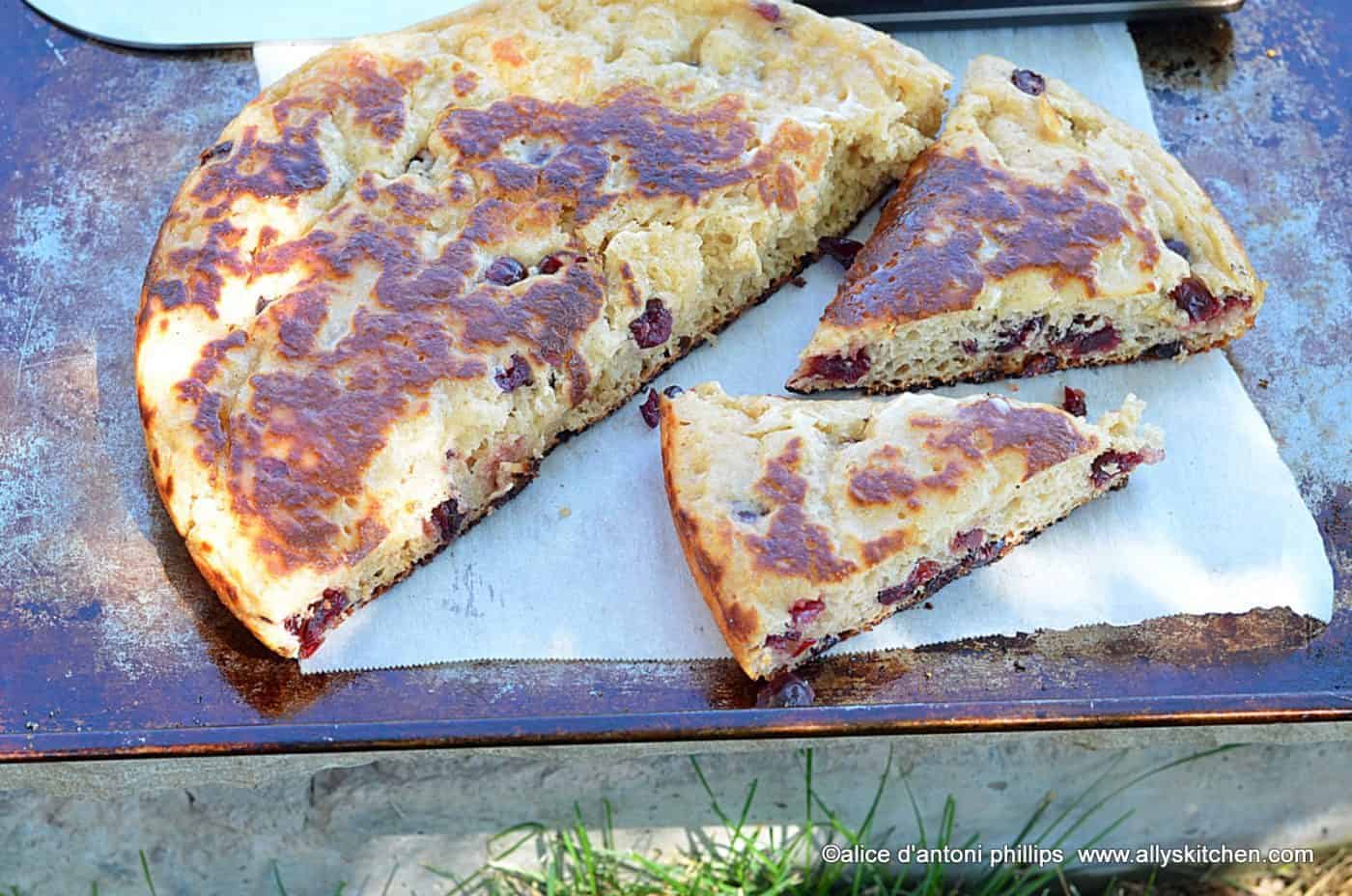 What you do:
In a mixing bowl, combine the dry ingredients: buttermilk, salt, baking powder, yeast, cardamom, cinnamom, sugar, flour, cranberries and nuts (optional). Toss and mix together with your hands. (Note: If you are using this for camping, put the dry mixture in an airtight container or plastic bag for transporting.)
When ready to 'bake' combine the warm water into the dry ingredients and blend well. The batter's the consistency of a thick cake batter.
Coat the inside/sides of the cast iron skillet well with the shortening. In the bottom of the skillet place a round piece of parchment paper.
Dump the batter into the skillet, cover, with a lid and let it rise in a draft-free, warm place for 20-25 minutes.
Cook on low on a camp stove or camp fire (raise the grill from the hot embers) for 25 to 30 minutes. (If you want to the top 'browned', give it a quick coat of cooking spray and then take a flexible metal spatula or two and gently flip (yes, this can be tricky) to the other side and cook about 2 minutes. (You may need to increase the heat just slightly to get a 'golden browning' effect on the top.)
(Note: If you're baking at home, you can 'bake' on medium low to low on the stovetop or bake in a 350 preheated oven until a toothpick comes clean from the center.)
Let it cool a few minutes then pull off 'hunks' or slice—whatever rocks your boat!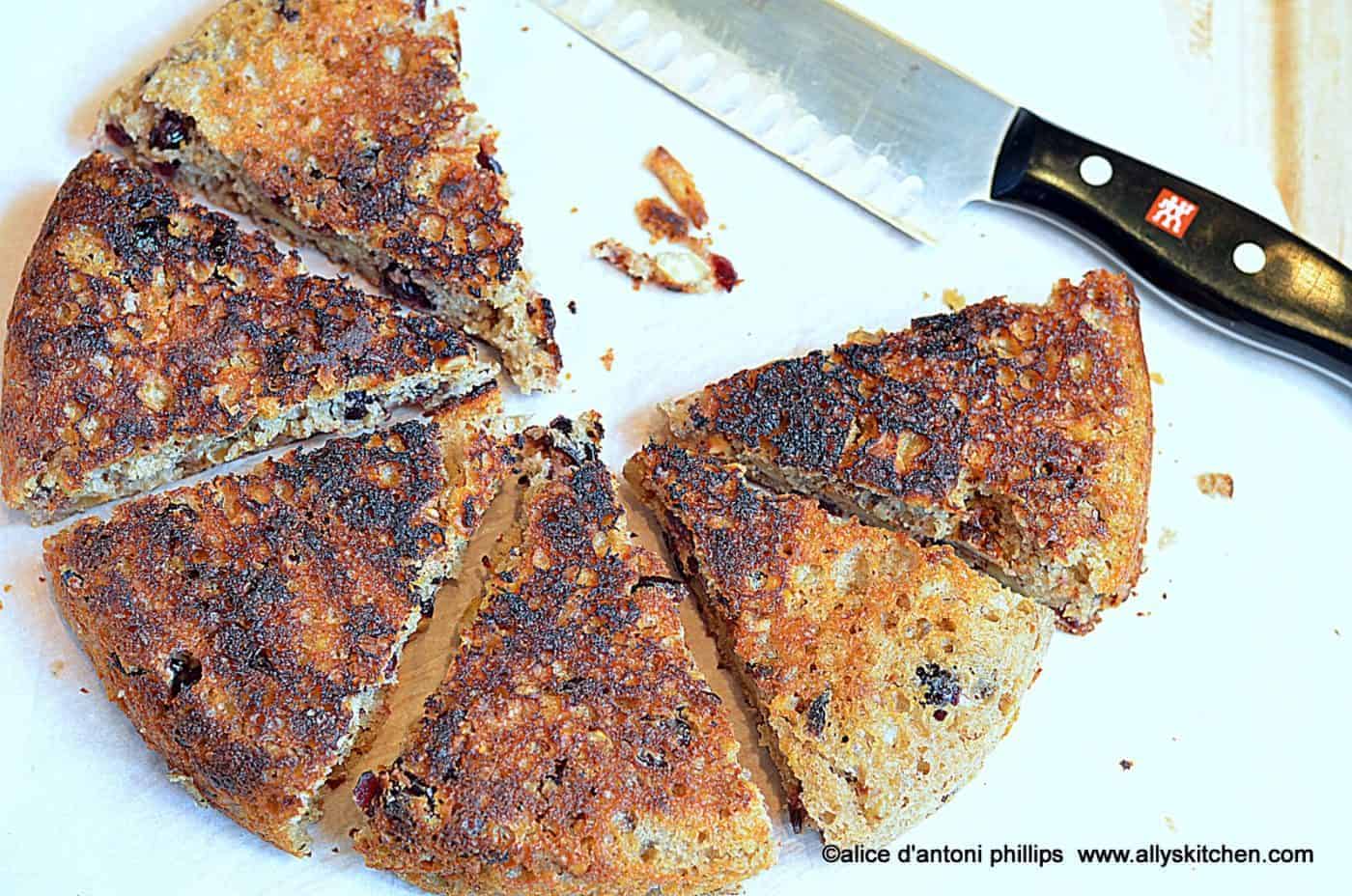 ©alice d'antoni phillips www.allyskitchen.com