Preparing for the World Food Championships meant months of recipe artistry~~hours of thinking consciously and unnumbered hours of thinking subconsciously!  Not to mention hours of work in the kitchen and lotsa money spent on ingredients!
This dish was one of those many pasta creations, since 'pasta' was the theme ingredient for the category, Recipe,  in which I competed.   A combination of sweet, salty and spicy comes together to make this dish really extraordinary and so easy to prepare.  After working with different ingredients, all came together into this Caribbean dish that truly is spectacular!
This recipe is brought to you by DOLE Packaged Foods, however, all of the recipe development and creative food artistry, including the photography, is solely the work of Ally in her Kitchen.  For more information CLICK~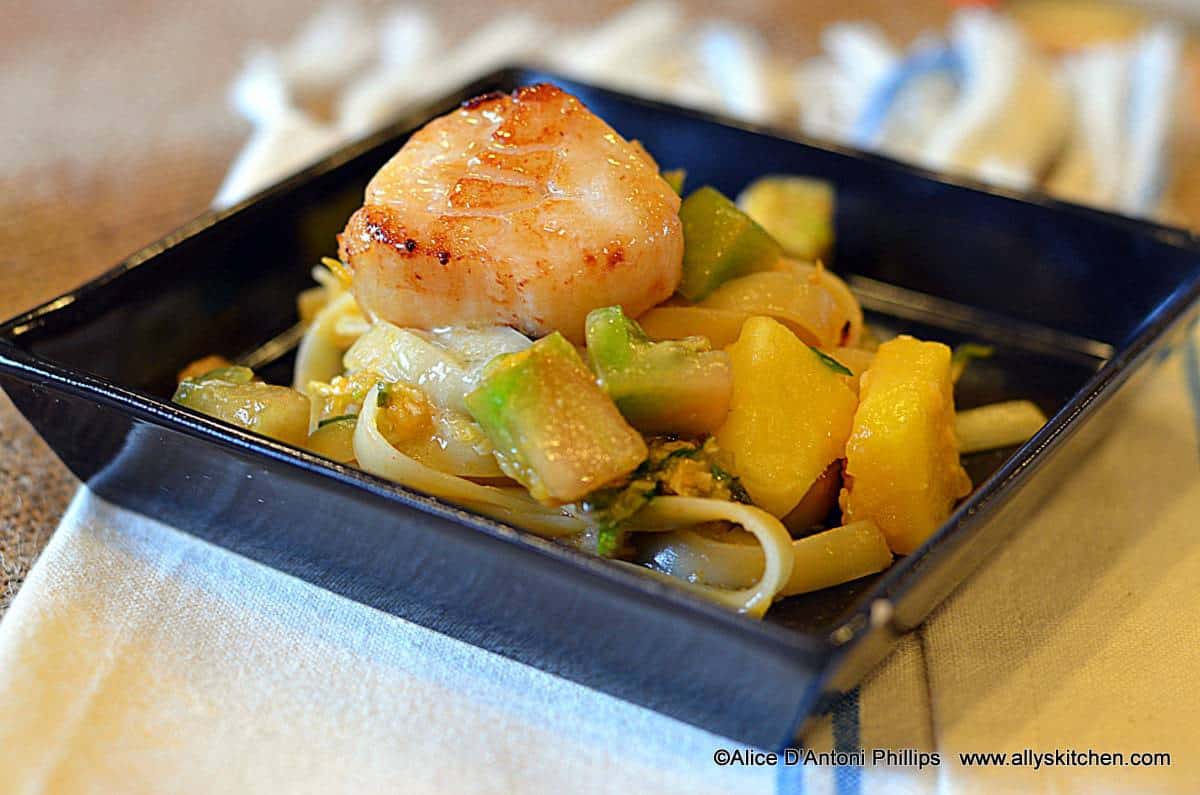 Serves: 4 (tapas size servings)
What you need:
Pasta:
8 ounces tagliatelli—prepare according to package directions—when done coat with olive oil spray to prevent sticking
Sauce:
3 tbl butter
2 (4oz) individual containers of DOLE Mixed Fruit
¼  tsp sea salt
2 tsp Korean Sweet & Spicy Sauce
1/3 cup chopped fresh sweet basil
¼ cup chopped flat Italian fresh parsley
2 tbl fresh lemon thyme (plus extra sprigs for garnish)
½ shredded parmesan reggiano
1 cup DOLE mangoes (thawed)
1 heirloom large green tomato cut into medium size chunks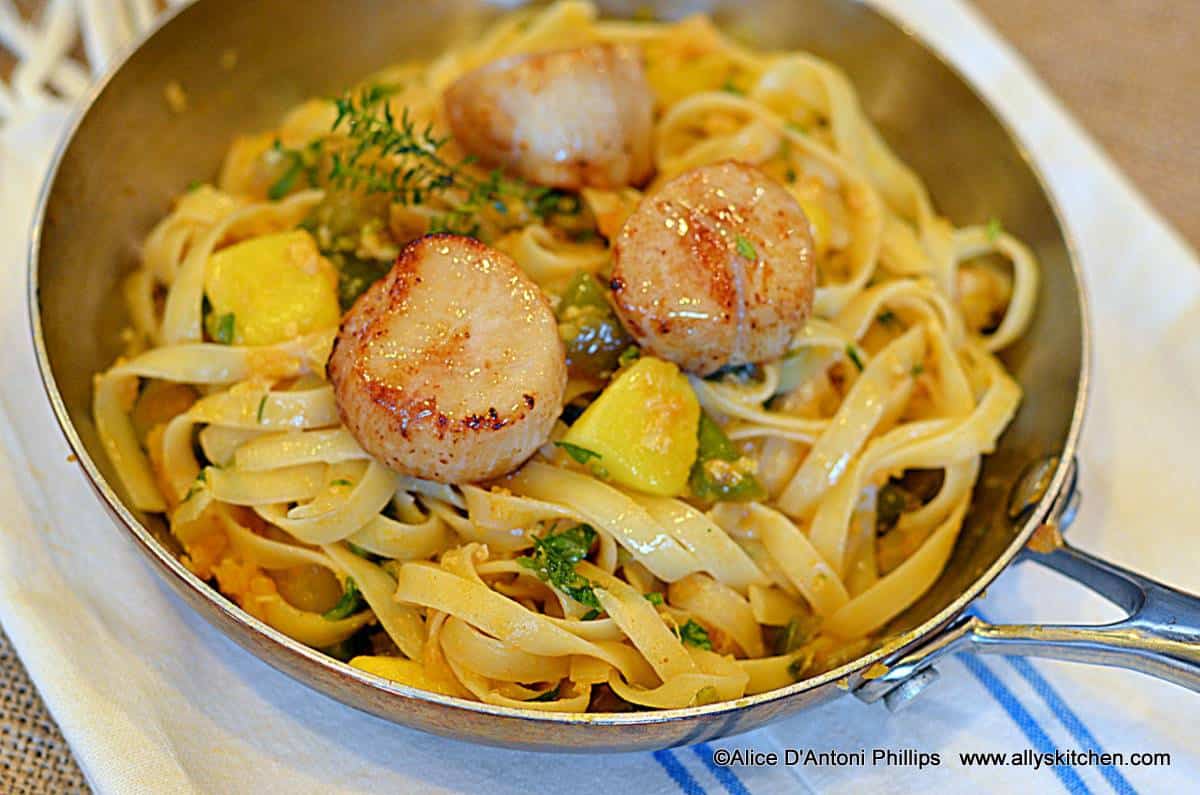 Scallops:
4 very large or 8 medium size scallops
¼ tsp sea salt
6 tbl butter
½ lemon for juice & zest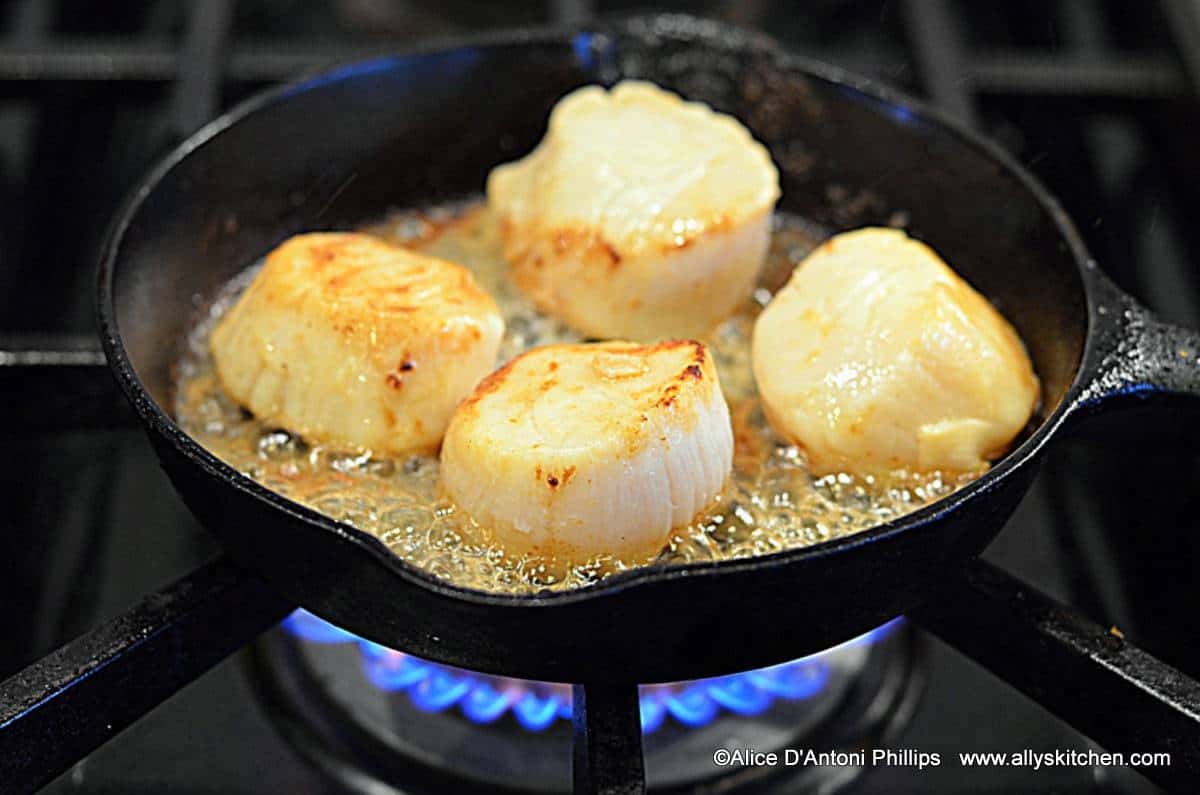 What you do:
Sauce:
Put Dole mixed fruit in the food processor and blend well into a sauce.  Melt butter in a medium-large heavy skillet over medium high heat.  Add fruit sauce. Add salt and Korean sauce and cook about 7 minutes.  Reduce heat to medium low and add basil, parsley, lemon thyme and shredded parm reggiano and blend cooking about 5 minutes.  Toss in mangoes and green tomato pieces.  Reduce heat to simmer and set aside.
Pasta:
Com cooked (al dente) pasta w/sauce and toss and coat.
Scallops:
Melt the butter in a heavy skillet over medium heat.  Add lemon juice and zest cooking for about 2 minutes.  Pour ½ to 2/3s of the melted butter into a small dish and reserve for plating.  Salt the scallops on both sides.
Increase skillet heat to medium high.  Place scallops in and pan sear about 2-3 minutes on each side until golden brown.  Remove to a plate and cover with a lid or loosely with foil.
Plating:
Twirl some of the pasta into a small plate. Top with a scallop (or two if using medium size scallops).  Drizzle with some of the lemon-butter and garnish with a thyme sprig.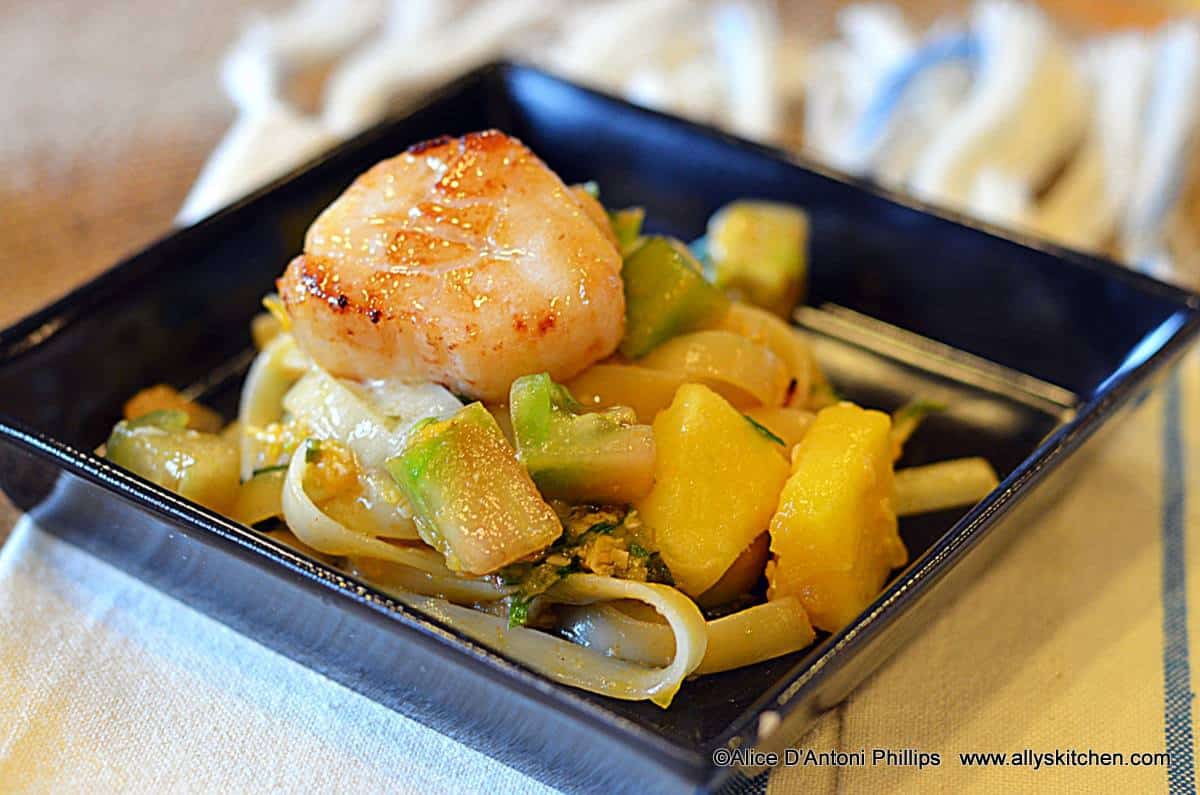 ©alice d'antoni phillips   www.allyskitchen.com