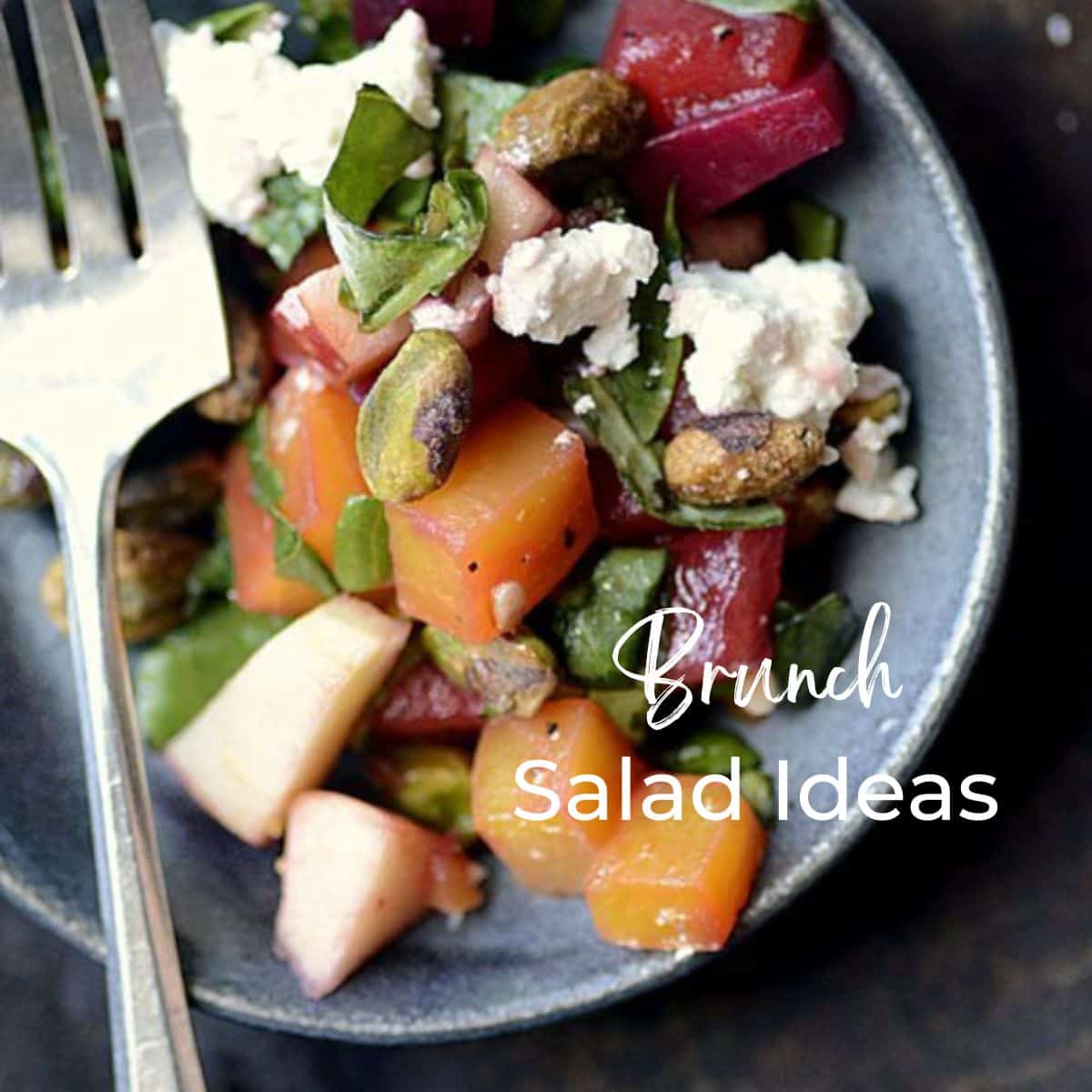 When it comes to brunch salad ideas, this list takes the cake, as it were. These salads are so easy to make, loaded with flavor, and run the gamut from olive salad to tomato onion salad, cabbage salad, fennel salad, and so much more.
I'll be honest. Like most kids, I wasn't a huge salad fan growing up. I don't know what it is about salads, but it seems like you need to grow into them. It wasn't until I was in high school that I began to appreciate a good salad.
As I got older, my love of salads grew, and by the time I was in my 20s, I was routinely making all kinds of salads. These days, I feature salads heavily in my recipe rotation, from brunch to light lunches, a full dinner, or simply as a side, I just love, love, love salads. After you try these recipes, I think you will, too.
Why These Salads Are So Great
These salads are amazing because they're so healthy and so easy to make. They're also full of interesting flavors and textures.
When you think of salad, you probably think of some kind of lettuce mixed with tomatoes, cucumbers, onions, and a few other vegetables and then topped with dressing. While there's nothing wrong with salads like that, I prefer to keep things more interesting.
These easy, healthy brunch salad ideas are so fantastic because they offer deliciously unique flavors and textures that are perfect with any brunch meal. You find all manner of flavors from sweet to tangy, and tons of texture in these recipes.
What to Serve with Brunch Salads
Salads make excellent side dishes because they pair well with just about anything. They make an excellent side for brunch, lunch, or dinner, depending on what kind of salad you decide to serve.
These delicious salads pair well with a variety of delicious brunch foods like:
Eggs
Bacon
Sausage
Cold cuts
Charcuterie boards
Crackers
Sandwiches
Why You'll Love These Salads
These salads have a lot going for them. They're easy, delicious, and have such a diverse variety of textures and flavors, there's something for everyone on this list. From chunks of sweet apples to zesty onion and tomato, the flavors are so punchy!
All of these salads use just a few simple ingredients.
They're full of flavor and textures.
Every salad on this list is so easy to make even beginners can make them.
They're healthy and delicious – the perfect combo.
Easy Brunch Salad Ideas
And here we are! We've finally come to my collection of easy, delicious brunch salad ideas. I've made all of these salads more times than I can count over the years, and during all that time, I've never had a complaint. In fact, family and friends always devour these salads whether I serve them for breakfast, lunch, or dinner.
These salads range from simple tomato and onion salads to beet watermelon salad, roasted sweet potato salad, yogurt potato salad, and so much more, so there's more here than just lettuce and dressing. Try any of them, and I know you'll want to try them all!
Try All These Brunch Salad Ideas
Whether you want a healthier take on potato salad or you'd like to try something different like a pea and shrimp salad, there's a delicious, easy, and unique salad on this list for you. Give them a try, and you'll see what I mean!