Seasonal fruits and vegetables are always the best when cooking and when creating new recipes~~since it's pomegranate season, I'm creating a windstorm of recipes that use this delectable fruit.  In fact, one of my recipes just won the Stiebs Pomegranate Contest~~I thought why not have these littl' bursts of bubble wrap on a sandwich~~so, I did my most spectacular food artistry and came up with the "Senior PROMegranate Grilled Cheese' (get it…senior prom?)!  These 'bourbon Chocolate & Pomegranate Cake Yummmmmeeeezzz' can be made ahead and frozen~~just wrap them up air tight!  Yes, it will be hard to just eat one!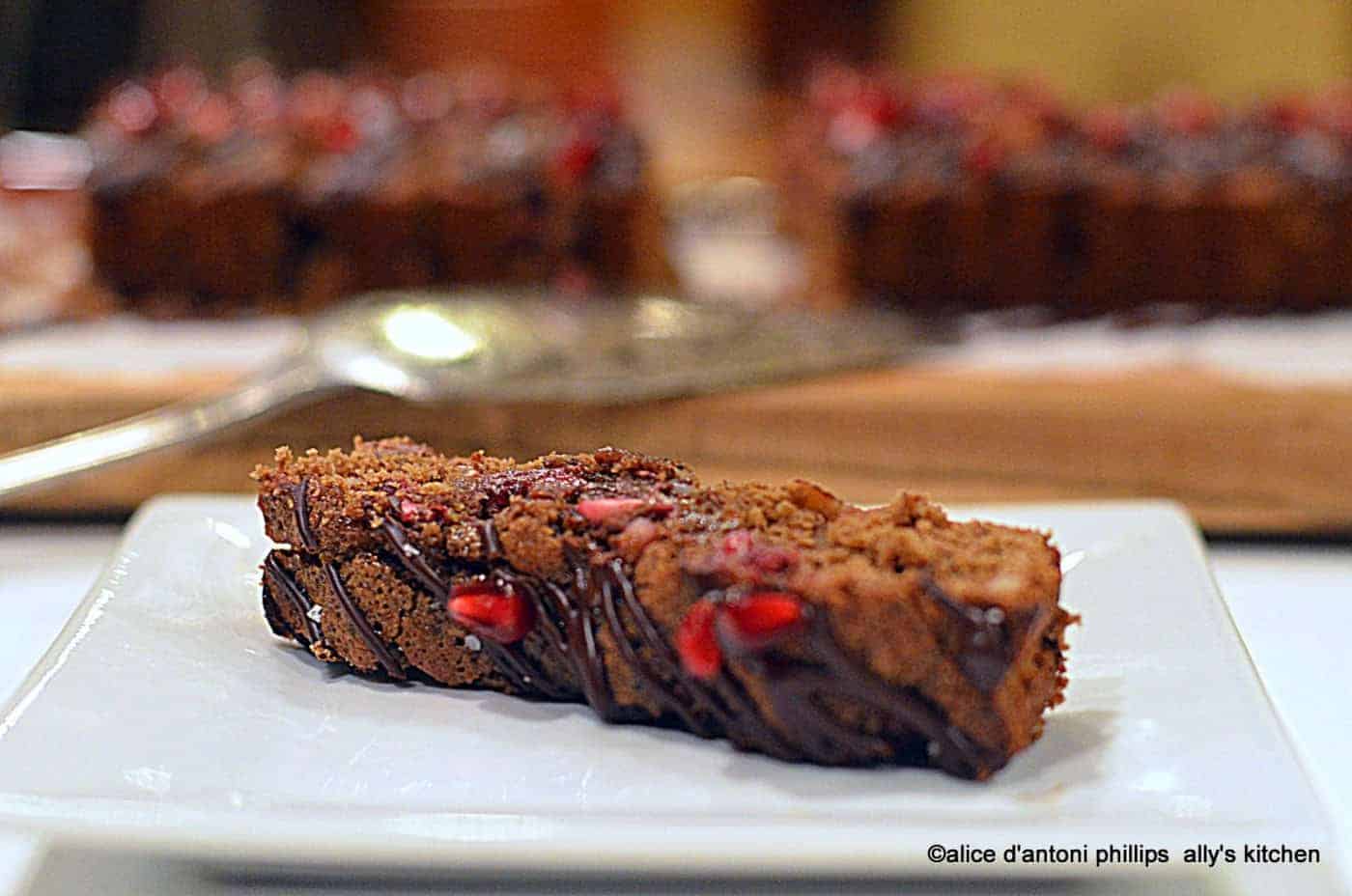 Preheat oven to 350
Makes: 2 (4×13) tart pans or square baking pans
What you need & What you do:
The Cake
1 stick (1/2 cup) salted butter (room temperature)
1 cup dark brown sugar
1/4 cup bourbon
1 tbl vanilla
3 beaten eggs
1 tbl instant espresso coffee
2 tbl 100%  natural cacao powder
1 3/4  cups oat flour (you can use regular all-purpose flour~~I was experimenting!)
1 tsp baking powder
1/2 tsp sea salt
1/2 cup shredded sweetened coconut (optional)
1/4 cup cacao nibs
1 cup chopped almonds (put in food processor to make pebble mixture)
1  cup pomegranate seeds (divided)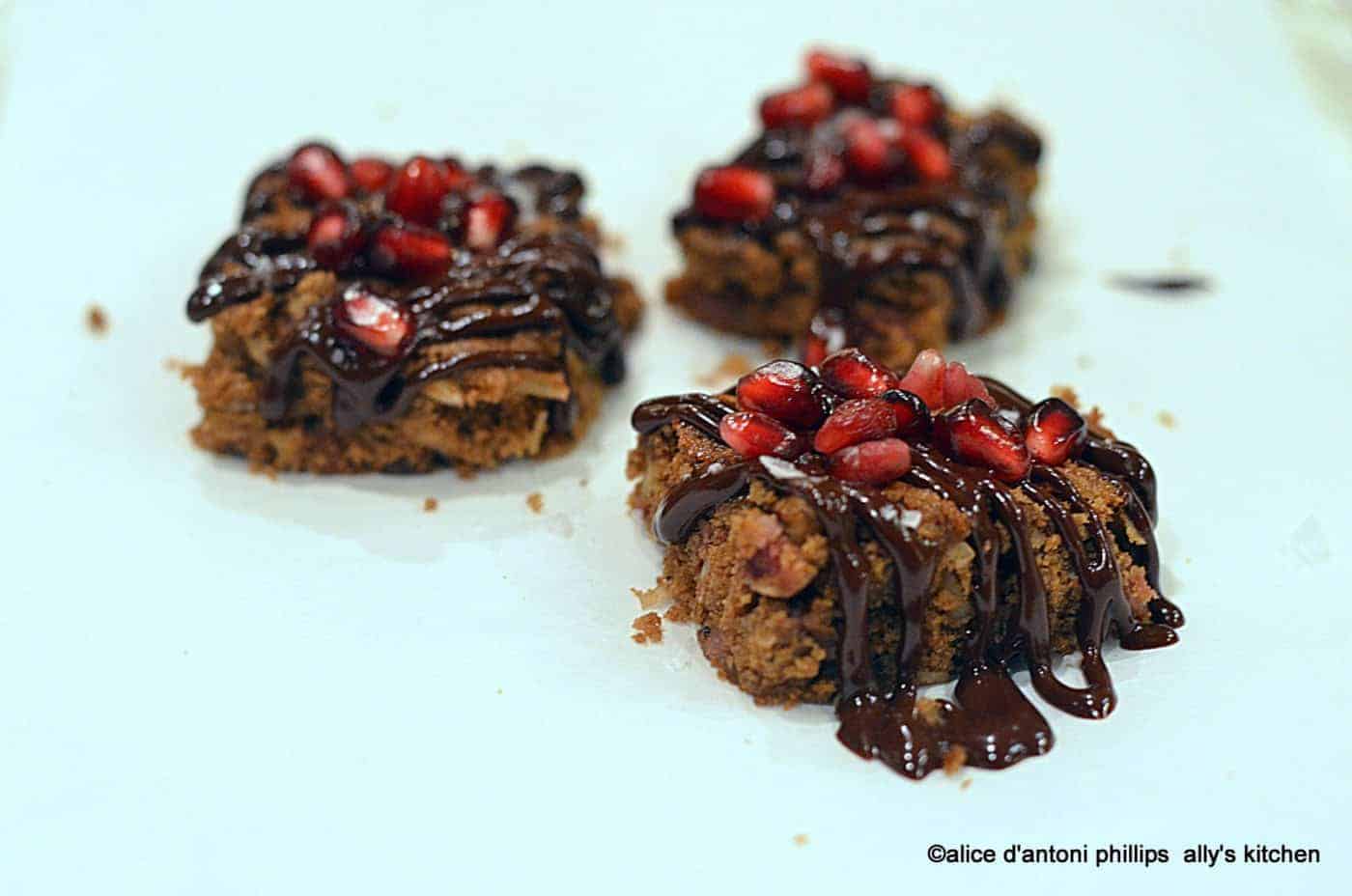 In a large mixing bowl with a mixer, combine the butter and sugar beating for about 3 minutes.  Add the bourbon, vanilla, eggs and blend well.  In another bowl combine and blend the espresso, cacao powder, oat flour, baking powder, salt and blend.  Combine half into wet mixture, mix, and combine the remainder. Fold the almonds, coconut (optional) and about half of the pomegranate seeds. Pour into a greased baking dish~~about 1 1/2 to 2 inch thickness.
Bake in a preheated 350 oven about 20-22 minutes or until a toothpick comes out basically clean from the center.  For more moistness reduce baking time to about 18-20 minutes.  Let cool completely before putting on the drizzle.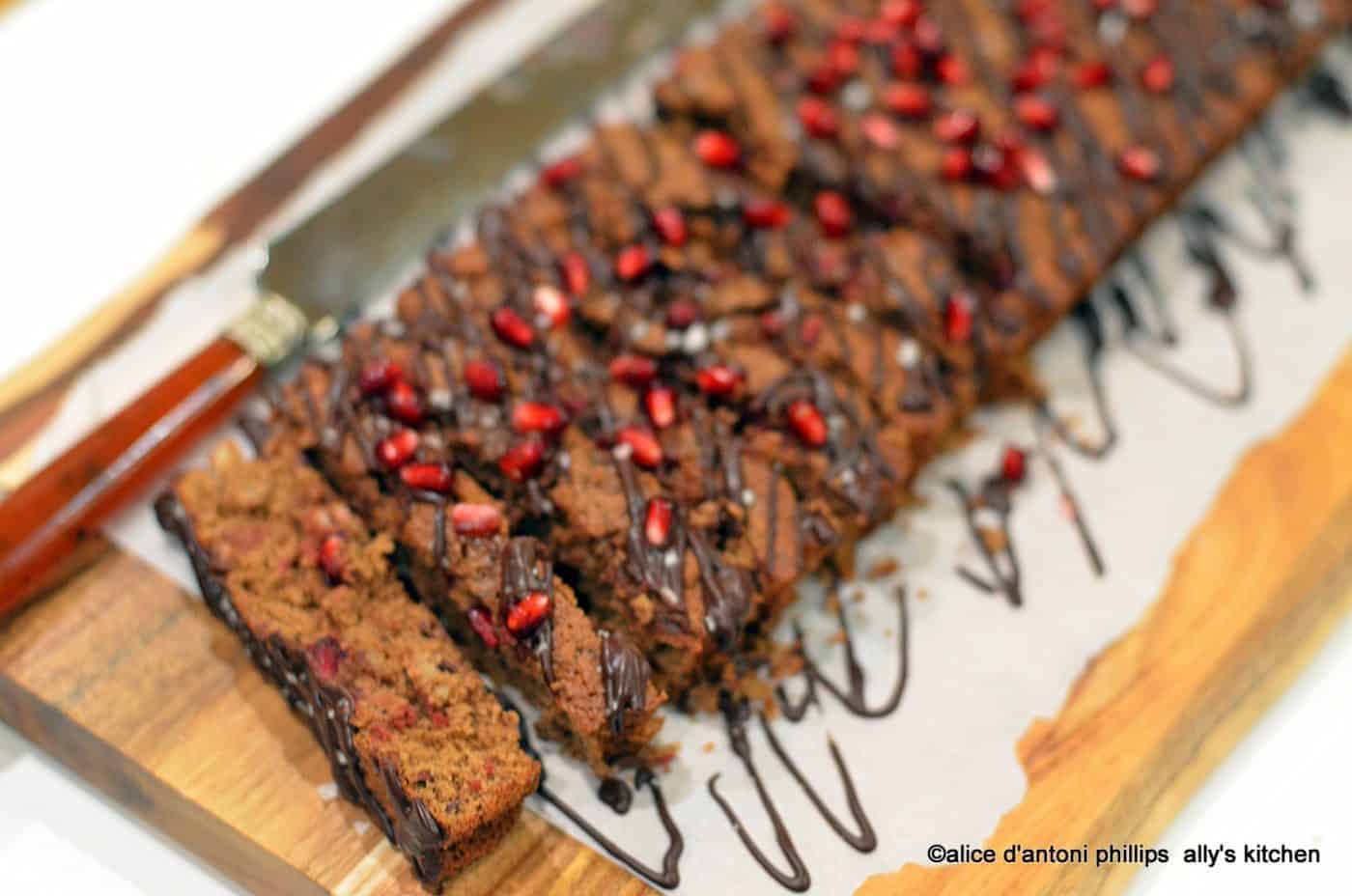 The Drizzle
6 oz  bittersweet chocolate (70%) cacao)
8 oz 62% semi-sweet chunks (divided)
3/4 cup heavy cream
1/4 tsp sea salt
1 tsp  oil
Finishing Sea Salt
Put the chocolate (both types) in a glass bowl that will go atop a double boiler.  Microwave the chocolate about 30 seconds on high.  Place on the double boiler (hot water) & whisk in the cream until smooth.  Add the salt and oil and blend.  Cool somewhat and put in a squeeze drizzle bottle.
When the cake is cool, drizzle with the chocolate.  Sprinkle on the remaining pomegranate seeds and sprinkle with finishing salt.
Caution:  Addictively boholicious!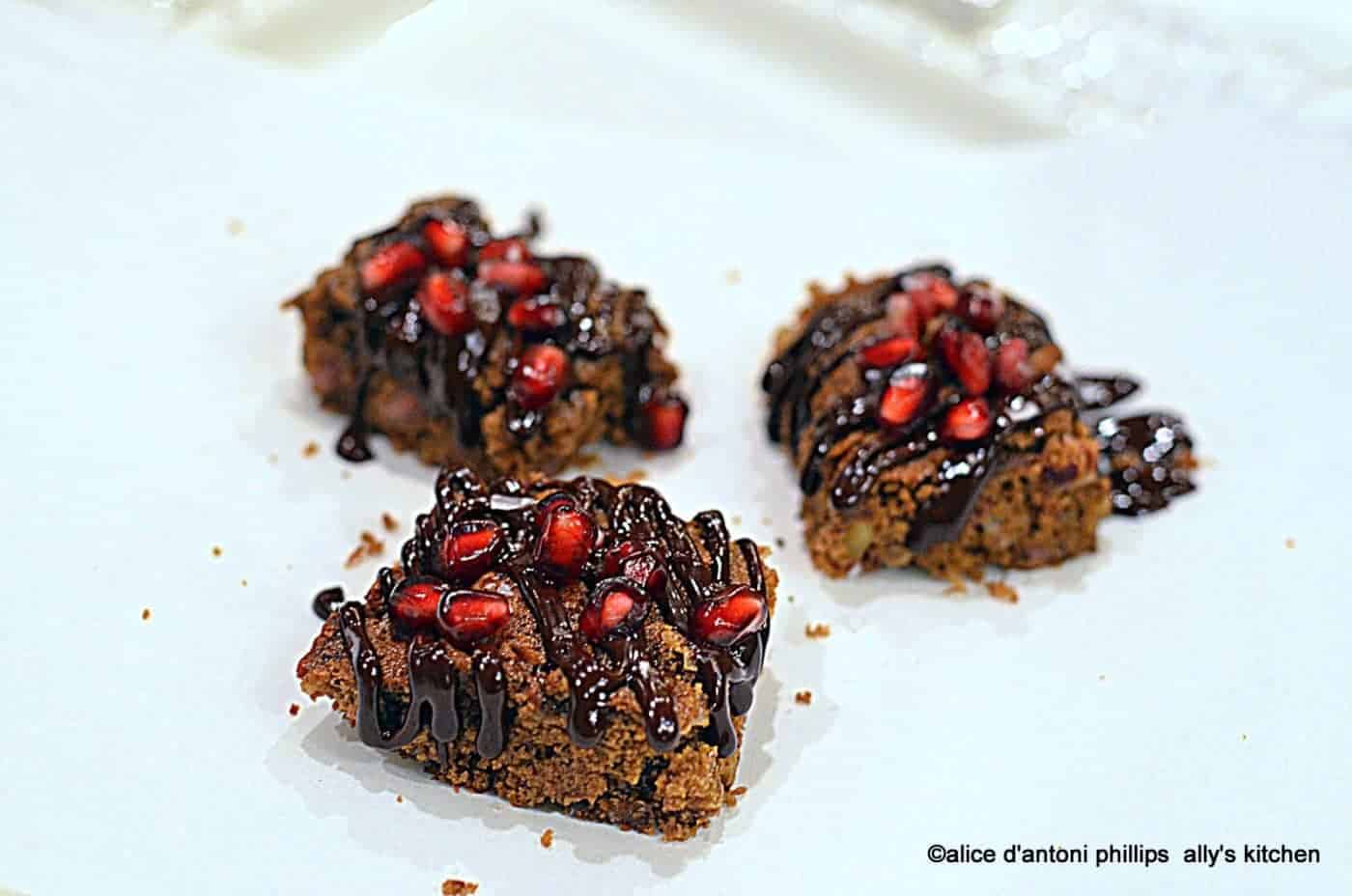 ©alice d'antoni phillips  www.allyskitchen.com