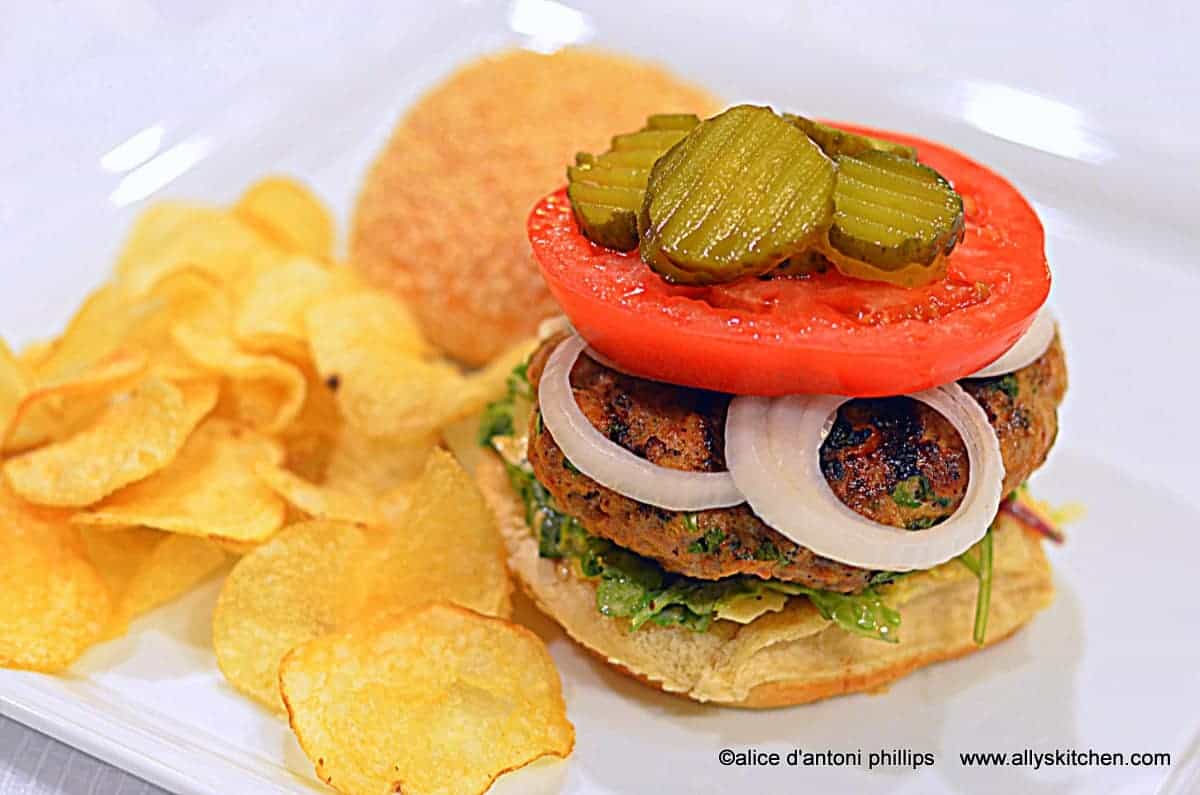 'Hi, I'm Ally & I'm a burger addict.' Just something about the layers of flavor from the charred and grilled meat to all the toppings you can layer on from cheeses to veggies to even fruit, for me a burger is a meal in my hands! Now, sometimes, I just like a good ol' 1950s-style burger~~classic yellow mustard, tomatoes, onions, lettuce and pickles. Then other times, like with this 'asian burger with spicy savoy cabbage slaw~ I get a hankering for ratcheting up the flavor profile & traveling around the world with this classic American staple!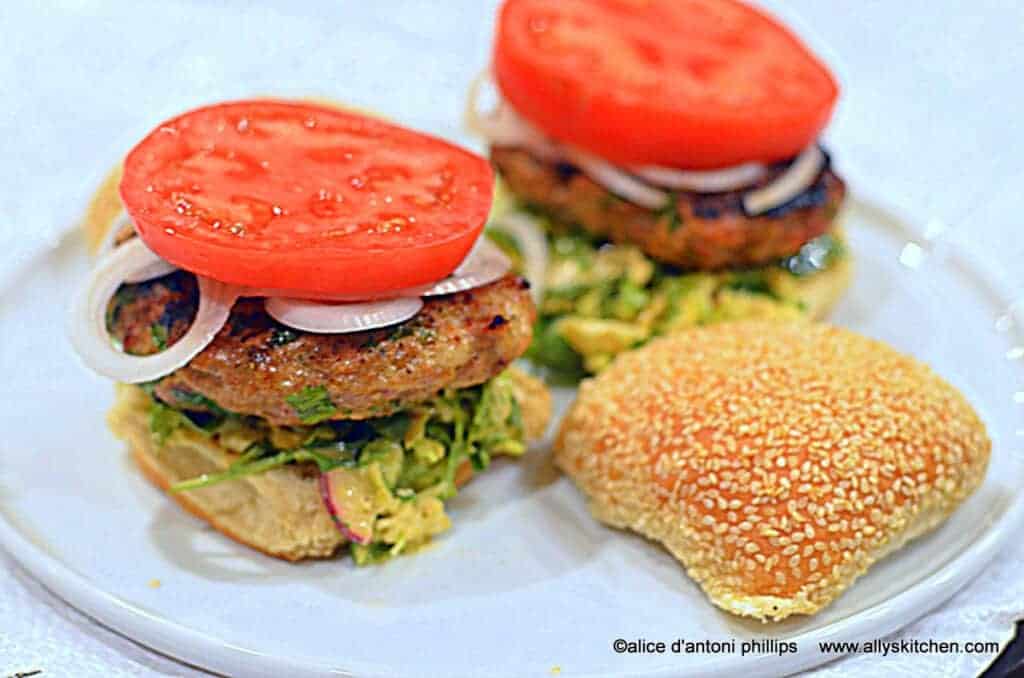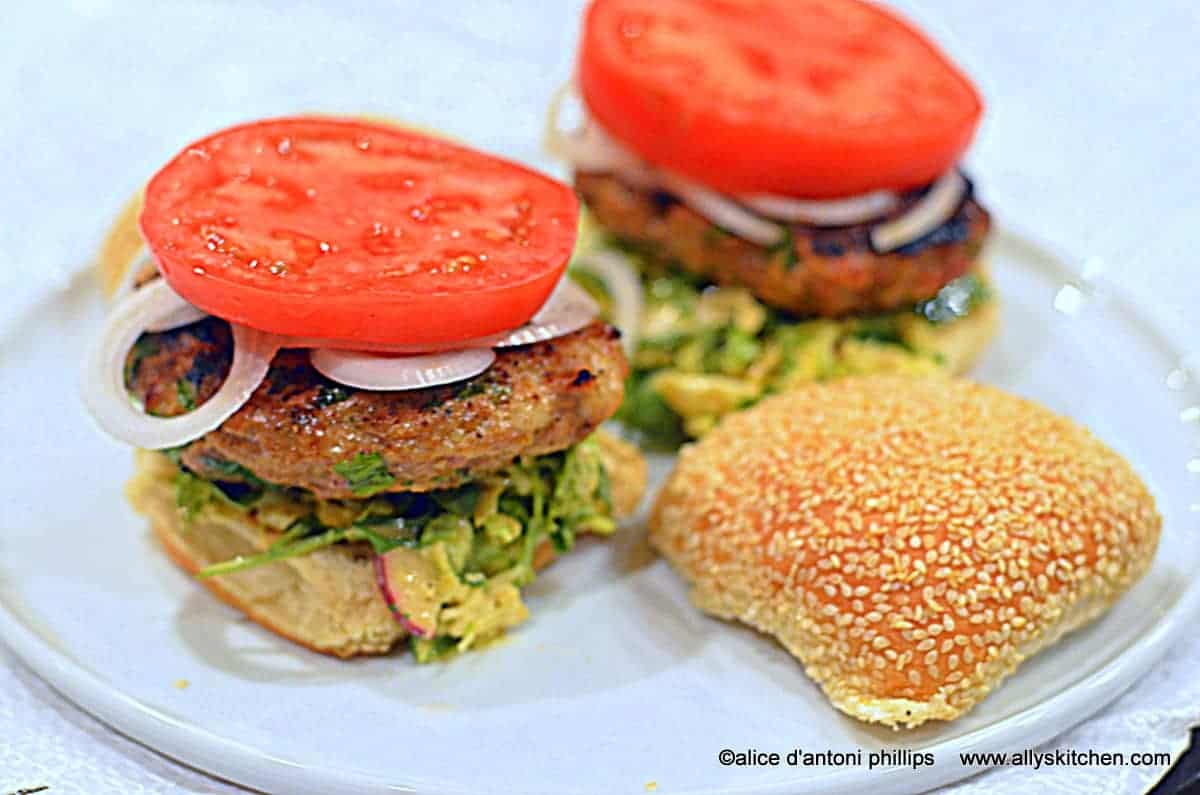 Serves: 4
What you need:
Savoy Slaw:
4-5 cups thinly sliced savoy cabbage
1 tbl fresh grated ginger
½ cup thinly sliced green onions w/some of the tops
½ cup diced green pepper
2 radishes sliced and cut in pieces
2 cups roughly chopped arugula
Sauce:
3 heaping tbl mayonnaise
1/3 cup plain Greek yogurt
2 tbl sesame oil
1/3 cup Dole pineapple juice
2 tsp sea salt
1 tsp coarse ground pepper
1 tbl hot sauce (your choice—I used Korean Sweet & Spicy Sauce.)
Burgers:
1 lb ground chicken
½ pound ground pork
¼ cup Greek plain yogurt
2 tsp minced dried onions
2 tsp granulated garlic
2 tsp red chili flakes (adjust to your heat level)
2 tsp seasame oil
1 tsp sea salt
½ tsp pepper
½ cup finely chopped fresh parsley
Finishing Touches:
4 serving buns
Thinly sliced sweet onion rings (optional)
4 large tomato slices (optional)
Reserved sauce (optional for drizzle on burger)
Dill pickle slices for garnish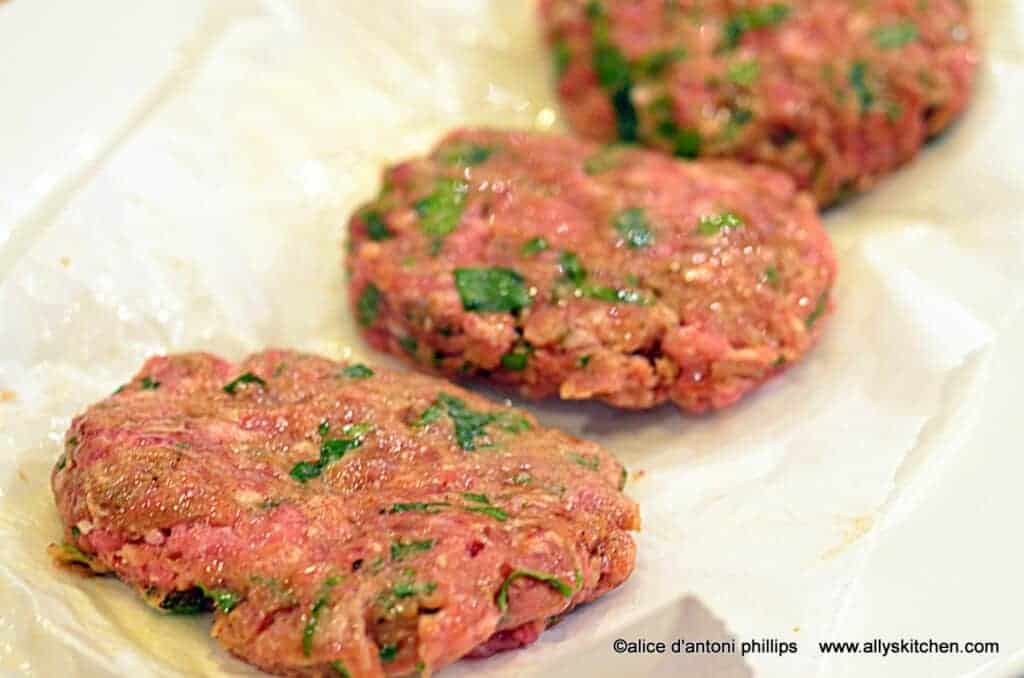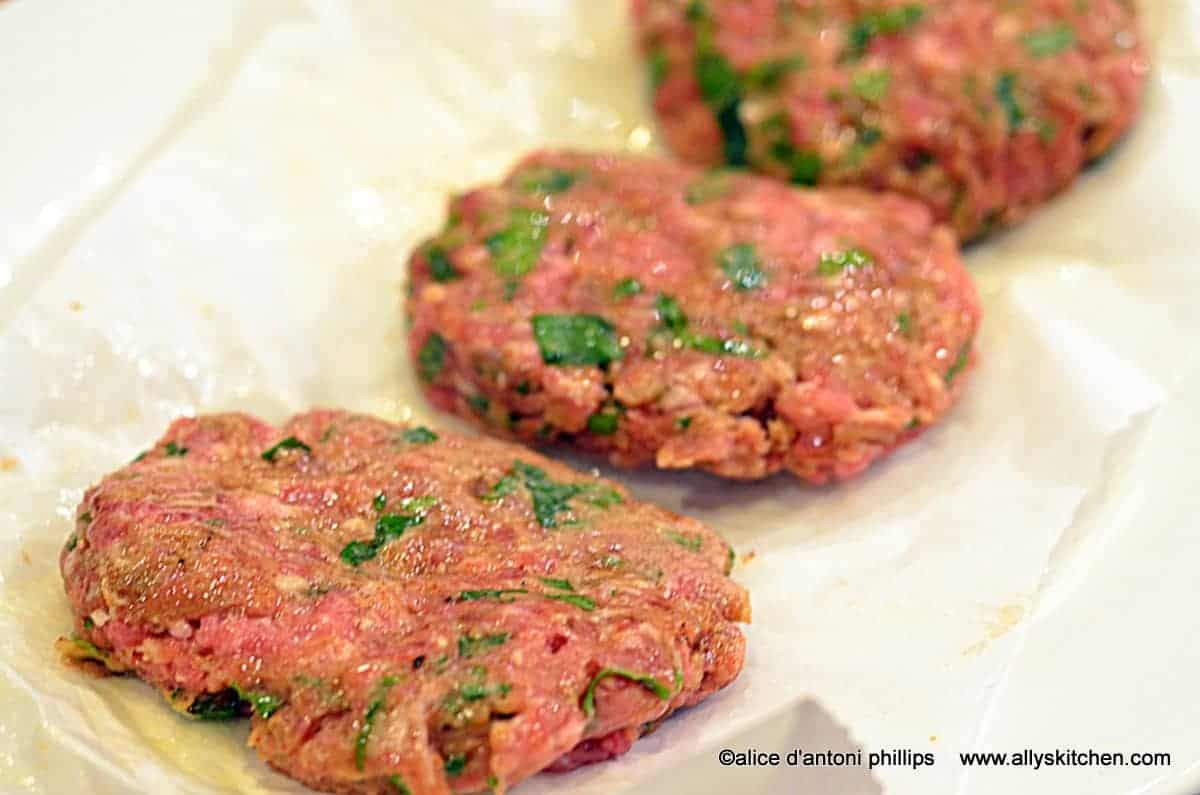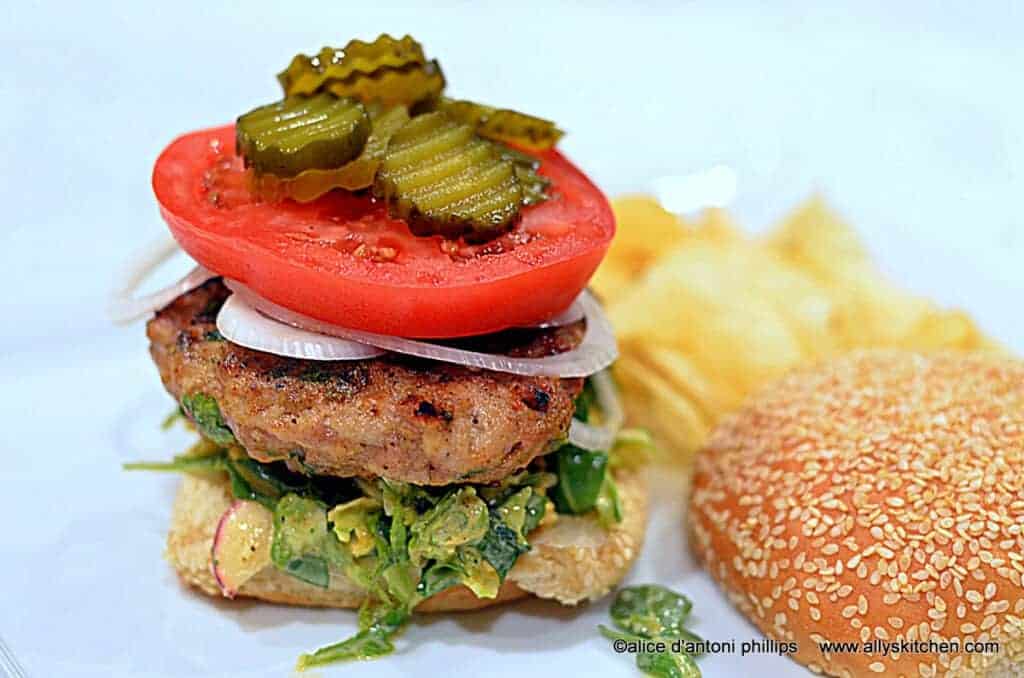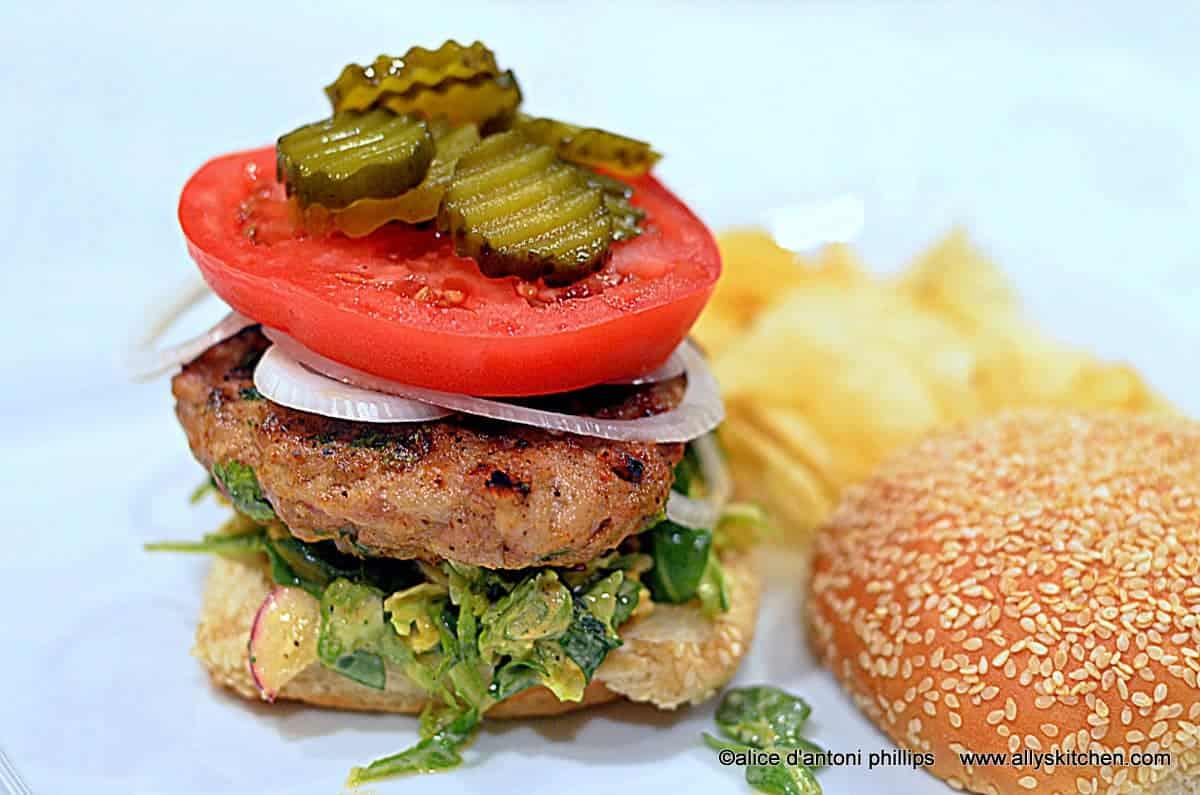 What you do:
In a large mixing bowl, combine the ingredients, EXCEPT the arugula, for the slaw. Toss and mix with your hands.
In another mixing bowl, combine the ingredients for the sauce and whisk together. Reserve about ¼ cup and then pour the rest over the cabbage slaw and toss and blend. Refrigerate until serving. Add the arugula right before serving and toss in.
In a mixing bowl, combine all the ingredients for the burgers and blend together well with your hands. Form into 4 equal side patties. Cook on a hot grill (about 400-500 degrees) about 3 -4 minutes per side. Remove, stack one on top the other and let them rest about 5 minutes.
Assemble your burgers and serve with your favorite sides! I went for nice kettle chips!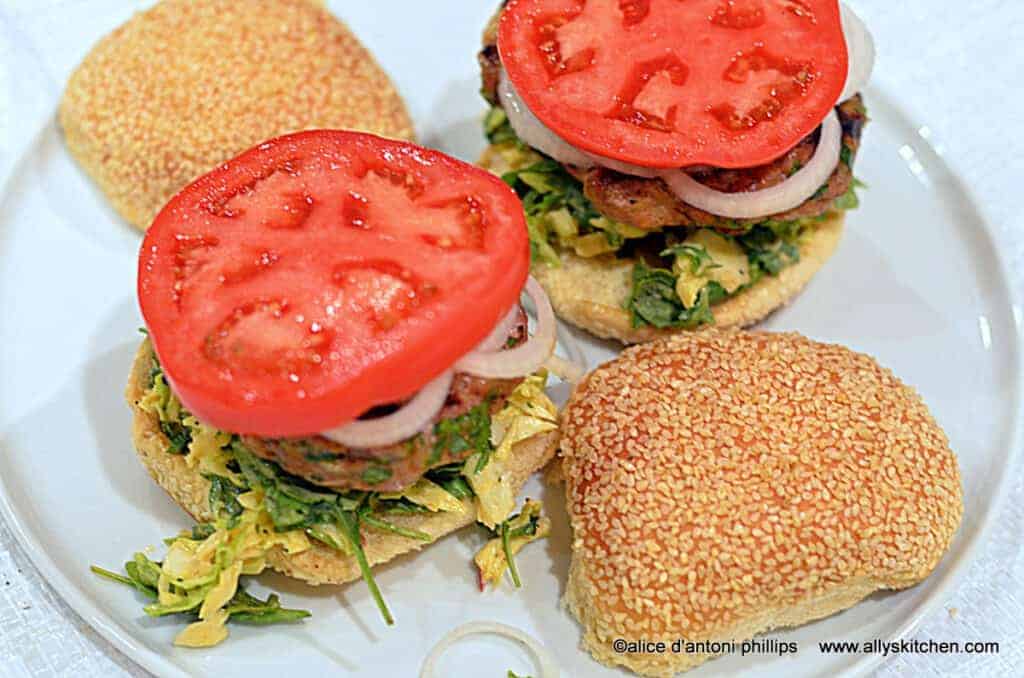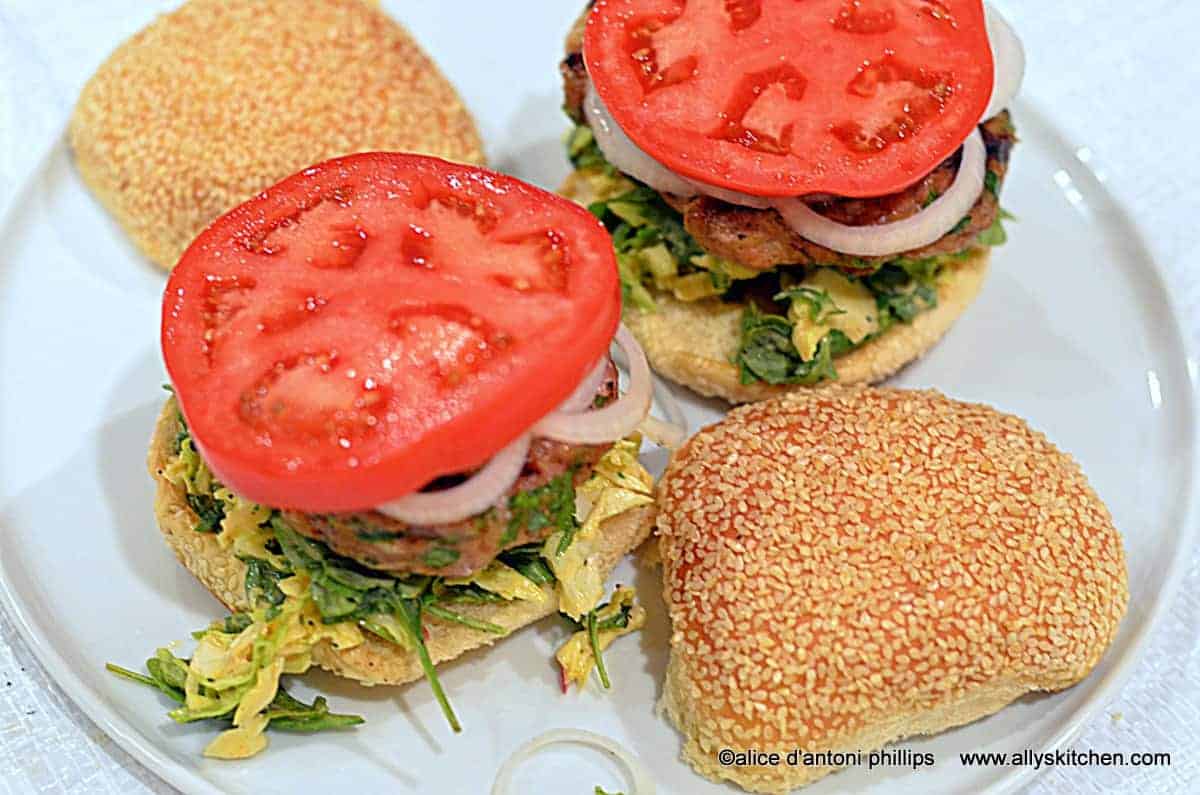 ©alice d'antoni phillips www.allysktichen.com