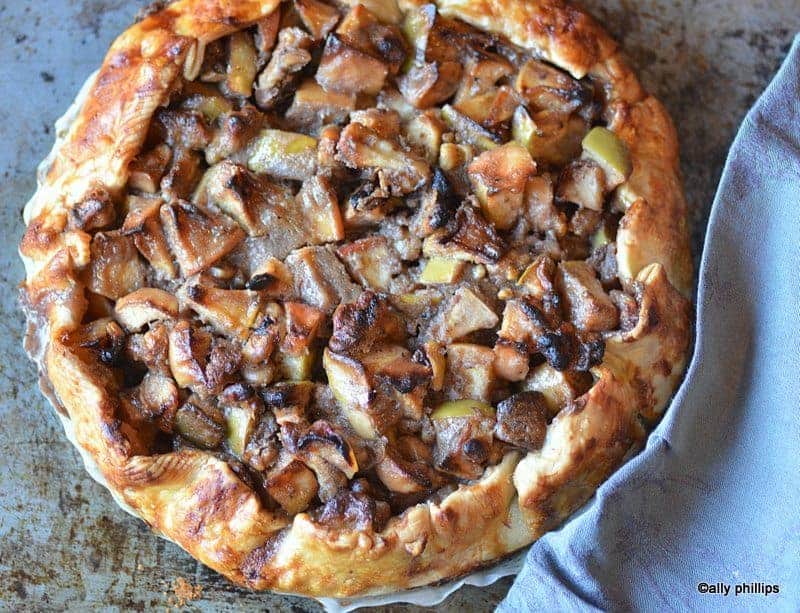 Apples. Spices. Jack Daniels. And, what do you have? An apple jack tart. Chocked totally full of fresh tender apples, leave those skins on for texture, beauty and nutrition, mix with an array of spices, some sweetness and a splash of Jack, and you're in business. Now, if you don't want the Jack, no problem. I've gotchu covered. You'll see in the ingredients list!
This apple jack tart is so good when it's served and eaten right out of the oven. Big scoops of melting vanilla ice cream only make this endearing 'American Pie' even more tantalizing. Believe me, when you bring this rustic peasant tart to the table, in all it's glorious mahogany hues of overflowing bites of apples, expect ooohhhhs and aaahhhhs. When you slice it, don't worry about perfection. If you need a spoon to scoop up goodliness that falls out, go for it. If the crust cracks and falls apart, just pile it on top of the apples. It could end up being an Eton mess. But, what a delicious mess indeed!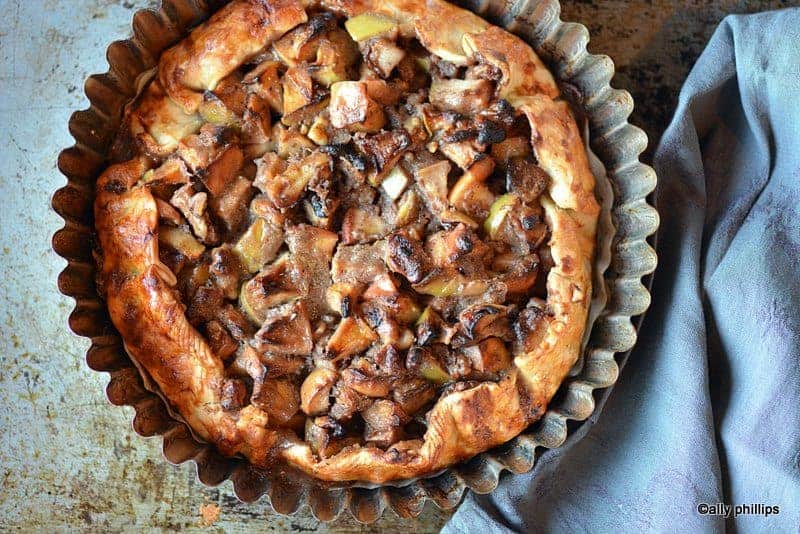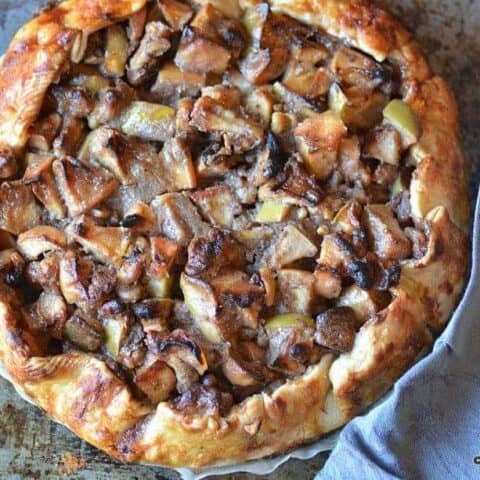 apple jack tart
Ingredients
Preheat oven to 375
What you need:
1 refrigerated roll-out pie crust, room temperature
1 lemon, juice
4 large apples, skin on, cut into bite-size chunks
1 tsp. ground cinnamon
½ tsp. ground cardamom
½ tsp. ground nutmeg
1/8 tsp. sea salt
¼ cup brown sugar
1/3 cup sweetened condensed milk
2 Tbl. Jack Daniels bourbon/whiskey (substitute equal amounts of brandy, rum or cognac OR 1 TBL. vanilla extract)
3 Tbl. Butter, melted
1 Tbl. Honey
1 egg, beaten
Instructions
Grease your pie plate. Put the crust in but don't form the edges to the rim. Set aside.
Put the lemon juice in a large bowl. Add the apple pieces and toss. Combine in another small bowl the cinnamon, cardamom, nutmeg, salt and brown sugar. Add to the apples and blend together.
In a small bowl, combine the sweetened condensed milk, bourbon (or whiskey) and butter then pour into the apples and blend. Put this mixture in the pie pan.
Pinch the edges of the pie crust around the apples then drizzle with the honey and use a pastry brush to put coat the exposed pie crust.
Put the pie on a cookie sheet. Cover loosely with doubled foil. Bake in a preheated 375 oven for 55-60 minutes.